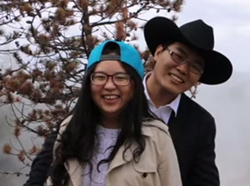 Zheng and Zhang met and fell in love while on student visas in Chicago.
Galena, IL (PRWEB) November 23, 2015
Falling in love with a culture can be as intoxicating as falling in love with each other, or so Yuanzhang "John" Zheng and Ruiying "Claire" Zhang have learned. Zheng and Zhang, both from China, got the chance to fulfill their dream of having an American wedding when they won Galena, Illinois' Wedding in a Window contest, earning them more than $10,000 in bells and whistles.
But this won't be a typical American wedding because it came with a hitch. The couple must say their vows in a storefront window during Night of the Luminaria & Living Windows, one of the most romantic and visually stunning nights in this quaint village.
Zheng and Zhang met and fell in love while on student visas in Chicago. After traveling the U.S. together, their journey brought them to Galena, where they entered Wedding in a Window with the hope of winning an American wedding. Their video entry tugged at the heartstrings, and tickled the funny bones, of more than 23,000 YouTube viewers. Votes were cast from all over the world in favor of their story and, ultimately, a panel of judges chose them as the winner.
Their all-expense paid wedding will take place in the window of Vignettes on Galena's frozen-in-the-1800s Main Street Sat., Dec. 12. That same night, visitors can witness more than 5,000 candlelit luminaries all over the city and nearly 20 living windows peppered amongst the 101 downtown mom 'n' pop shops.
Galena is not only the Midwest's choice destination for weddings, honeymoons, anniversaries and bachelor and bachelorette parties but also a fascinating experience for those who seek the beautiful and the unusual.
For details about the winning couple and their romantic and story, go to http://www.VisitGalena.org or call 815.776.9200.
VisitGalena.org serves as the travel and tourism marketing and management organization for Galena, Illinois.This not-for-profit organization provides numerous travel resources to visitors via http://www.VisitGalena.org and a Welcome Center located at The Old Market House, 123 N. Commerce St., Galena IL 61036-2209.