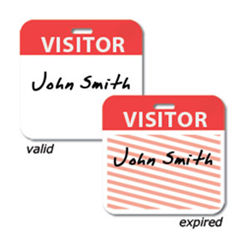 Chanhassen, MN (PRWEB) October 30, 2013
Gone are the days of a generic white name tag and visitor log book. There is now a more efficient and secure method for companies to track their visitors, says ID Wholesaler, photo identification products retailer: self-expiring visitor badges.
Self-expiring visitor ID badges by TEMPbadge contain a special ink that is activated once the badge is issued. Once the chosen time increment is up, highly-visible red lines appear giving a visual indication that the approved visitation has expired. With this, there is no need to collect visitor badges when guests leave.
TEMPbadge visitor badges are available in multiple configurations and time increments in standard or custom designs. Badges can also immediately turn blue when exposed to daylight, making it impossible for someone to leave a facility and return. With prices ranging from $0.10-$0.25 each, self-expiring badges are very affordable.
The use of self-expiring visitor ID badges has increased significantly in recent years. Many facilities now require that a photo ID be presented upon arrival. The information is then scanned into their system and they issue an ID badge that will automatically expire when visitation is up. Software programs streamline this process and also add an additional layer of security with watch lists and evacuation reports. In addition to expiring badges, ID Wholesaler also offers all of the equipment and software needed to ramp up a visitor management program.
Now through October 31, ID Wholesaler is offering an additional 15% off all expiring badges with coupon code SPOOKY15. For more information on this special offer or for more information about setting up a visitor management program, visit http://www.IDWholesaler.com or call (800) 321-4405.
About ID Wholesaler
ID Wholesaler is the largest retailer of the equipment needed to print photo identification cards and the accessories used to display them. Serving its clients with guaranteed lowest prices, expert advice, and free in-house technical support on everything they sell, ID Wholesaler stocks a broad selection of ID card printers and systems, ID software, supplies, and badge accessories. To learn more about ID Wholesaler, visit http://www.IDWholesaler.com or call (800) 321-4405.