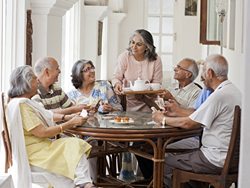 VisitorsConnect helps connect like-minded parents during their stay in the US. Connected Parents Are Happy Parents.
Santa Clara, CA (PRWEB) April 06, 2015
VisitorsCoverage, an international travel insurance solution company, recently launched new social website VisitorsConnect.com. VisitorsConnect is an easy-to-use site that helps visiting parents and relatives from around the world meet alike visitors during their stay in the USA. VisitorsConnect was created to help visitors staying in the same US neighborhoods make new friends so they can better enjoy their stay in the US.
Many elderly parents and relatives come to America to visit their children and other family but quickly become bored or lonely when their hosts are gone at work for the entire day. As a result, they want to return to their home country sooner or do not want to come back to visit the US in the future. VisitorsConnect is the solution to this problem; it gives visiting parents a way to meet and spend time with each other while their families are working, helping alleviate their boredom.
VisitorsCoverage CEO and President Rajeev Shrivastava explains, "We understand that parents who come to America often get bored during the day. Many families want their relatives to come visit them in the US, but have nothing to keep their parents occupied during the day when they have to leave for work. VisitorsConnect is the much-needed tool that can solve this problem, helping like-minded parents have something to do during the day and make new friends while staying in the US."
Free to join and easy to use, VisitorsConnect is designed to connect international visitors staying in the same neighborhoods in the USA. When visitors sign up, they are matched with the VisitorsConnect Best Match algorithm based on their location, age, gender, language, interests, and hobbies included in their profiles. Users can connect by clicking the "Connect" button listed under suggested connections, which sends them an invitation to connect via email where they can then make arrangements to meet in person.
VisitorsCoverage is active in its social responsibility of helping the immigrant community, which is why VisitorsConnect was built as a free platform for international visitors. VisitorsConnect gives visiting parents and relatives a way to meet other visitors with the same interests and cultural background, so they are not bored and can have a more enjoyable stay in the US.
Join VisitorsConnect today to start connecting with other international visitors right in your neighborhood.