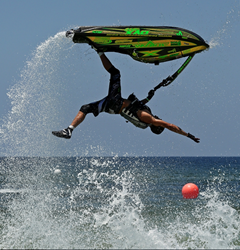 It's basically NASCAR racing on water.
PENSACOLA, FL (PRWEB) April 01, 2015
The national Pro Watercross Tour will blast into Pensacola Beach May 16-17—bringing with it death-defying stunts, professional watercraft racing and—organizers predict—an abundance of visitors to the Pensacola Bay area. The second-year event, one stop on a nation-wide tour, will feature teams of personal watercraft riders competing for money and glory in the turquoise waters of the Gulf of Mexico.
"It's basically NASCAR racing on water," said Pensacola Sports Association (PSA) director Ray Palmer. The PSA is sponsoring the event, which is expected to attract as many as 175 professional and amateur racers to Pensacola Beach. "They are from all around the world," Palmer said. "And they don't often get the chance to race on open water, so the Pensacola Beach event is a favorite site."
Pensacola will be the second stop on this year's tour, which will kick off May 9 and wrap up in September at the World Championship in Naples, Fla.
The professional-class races will be held from 11 a.m. to 2 p.m. on Saturday and Sunday—with the freestyle competition at noon on both days. The event will continue throughout the day, with amateur racers competing until 4 or 5 p.m.
WANT TO GO?

WHAT—Pro Watercross Tour featuring competitors from around the world.
WHERE—Pensacola Beach, Fla. (Casino Beach area in front of The Dock and Gulfside Pavilion).
WHEN—11 a.m. to 4:30 p.m. May 16-17, with pro events from 11 a.m. to 2 p.m. and an awards ceremony and autograph session after the competition.
COST—Free to watch, $80-$160 to ride. Register at http://www.prowatercross.com/tour_reg.
FORMAT—Personal watercraft racing in the Gulf of Mexico with events in various classes and watercraft for professional and amateur competitors. Freestyle competition features flips and stunts.
About the Pro Watercross Tour—Established in 1996, the only national tour for personal watercraft racing.
2015 tour stops—Panama City, Fla. (May 9-10); Pensacola, Fla. (May 16-17); Sparks, Nev. (June 20-21); St. George, Utah (June 27-28); Lewisville, Tex. (July 18-19); Hartwell, Ga. (Aug. 8-9); National Championship in Charleston, W.Va. (Aug. 15-16); and World Championship in Naples, Fla. (Sept. 19-27).
ONLINE—http://www.prowatercross.com.