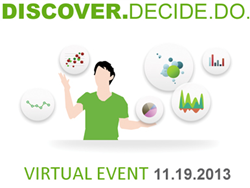 We are proud have a world-class partner like Visual Data Group on board for this event.
Cleveland, OH (PRWEB) November 12, 2013
As business requirements shift and new developments in data analytics and visualization emerge, organizations often must evolve or be left behind. However, the pace of today's rapidly evolving BI ecosystem has left many organizations lacking the information they need and struggling to stay ahead of the innovation curve.
Visual Data Group (VDG) is proud to sponsor QlikTech's DISCOVER.DECIDE.DO., a free virtual conference on November 19. This event brings thought leaders and business experts together to discuss the latest tools, tactics and technologies to help organizations capitalize on big data, business intelligence, analytics and data visualization. Attendees can interact with VDG representatives in the Partner Showcase and learn about the range of QlikView applications VDG uses to solve real-world problems.
"We are proud to be a Gold Sponsor of this event," said Jim Harder, principal. "Every time VDG shows up at a QlikTech event we get to spend time with our clients and strengthen our relationships as well as demonstrate our strengths for a whole new sector. Clients often learn about new specialties we have added, and others see that we have solved one of their business problems."
"DISCOVER.DECIDE.DO. presents attendees with a great opportunity to find new ways of making better business decisions with data that can help everyone in an organization create competitive advantage," said Joseph Dibartolomeo, President of the Americas at QlikTech. "We are proud have a world-class partner like Visual Data Group on board for this event."
Free registration. The event will also be available on video replay.
About Visual Data Group
Visual Data Group helps companies with large data sets solve big problems. VDG's approach to data mining improves performance, reduces costs and allows businesses to make better-informed decisions quickly. Visual Data Group is headquartered in Cleveland Ohio, with affiliate offices throughout the United States and Canada. Our certified technical and business consultants specialize in consumer products, manufacturing and logistics industries with a special focus on all aspects of supply chain management. Visit us at visualdatagroup.com.