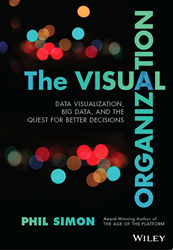 The Visual Organization takes Big Data from theory to practice, examining how progressive organizations are making sense of massive amounts of information.
Las Vegas, NV (PRWEB) March 13, 2014
Phil Simon, award-winning author, technology consultant, and Big-Data expert, argues the world is overflowing with new and potentially valuable information.
But Big Data is overwhelming. How can organizations possibly find the needles buried in the haystacks of so much data? Can anyone possibly comprehend today's immense and dynamic datasets? How can we ultimately make better business decisions?
These are lofty questions without simple answers. "At a minimum," argues Simon, "They need to become Visual Organizations. An increasing number of companies have realized that the variety, volume, and velocity of information require not only new applications, but a new mind-set. The most intelligent organizations today understand the importance of data discovery and exploration. Interactive heat maps and tree maps promote true data discovery to a far greater extent than static graphs and pie charts."
THE VISUAL ORGANIZATION: Data Visualization, Big Data, and the Quest for Better Decisions(Wiley, March 2014) goes beyond explaining why Big Data is a big deal. The book explores the current landscape contemporary data-visualization tools, and how companies like Netflix are using them to discover fascinating insights about their customers.
THE VISUAL ORGANIZATION is divided into four parts:
Part I: Examines the business, societal, and technological reasons behind the ascent of the Visual Organization. It covers the five general categories of contemporary dataviz applications and services.
Part II: Introduces several diverse Visual Organizations that have garnered profound insights into their customers. In the process, they have solved thorny business problems through new dataviz techniques and applications. Case studies include: Netflix, Wedgies, Autodesk, University of Texas, and more.
Part III: Takes a step back and provides a framework for understanding the four different levels of Visual Organizations. This part asks key questions and extrapolates a series of lessons, best practices, myths, and mistakes from Part II.
Part IV: Offers several careful predictions about current trends, Visual Organizations, Big Data, and the future of dataviz.
"Very few organizations are at the cutting edge of Big Data. For every Amazon, Apple, Facebook, Google, Twitter, and Netflix, thousands more are stuck in the past. Visual Organizations are using powerful tools to make sense of all sorts of information: unstructured data, metadata, and other emerging data types and sources. And they are starting to find key insights into their customers and employees," asserts Simon.
Watch the book trailer here.
About Phil Simon:
Phil Simon is a technology consultant, award-winning author, and sought-after keynote speaker. His contributions have been featured on NBC and CNBC and in Inc. Magazine, BusinessWeek, Phil Simon is a frequent keynote speaker and recognized technology expert. He is the award-winning author of six management books, including The Visual Organization: Data Visualization, Big Data, and the Quest for Better Decisions. He consults organizations on matters related to strategy, data, and technology. His contributions have been featured on The Harvard Business Review, CNN, NBC, CNBC, Inc. Magazine, BusinessWeek, The Huffington Post, Fast Company, The New York Times, ReadWriteWeb, and many other sites.