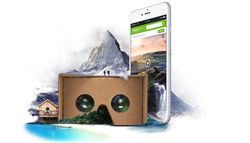 360 Photography Company Visualpathy.com Provides Immersive VR Content Capturing Services
(PRWEB) September 24, 2016
Visualpathy.com, a professional studio that offers 360 Photo snapshot capturing services, recently started providing immersive VR content capturing services. The professional photographers who run this studio announced that their clients can now easily display their offices, stores and real properties in a fully immersive VR content showcase. The studio now offers onsite 360 photography services to shops, hotels, and real estate builders. Besides offering their services, the company's professional photographers have also shared exclusive 360 degree video 7 tips through their blog.
The owners of the studio said that they only employ certified photographers who make appointments with their clients and visit the locations at prescheduled times to create 360 Photo. They claimed that the immersive VR content capturing service that they provide now eliminates all the uncertainties stemming from the intricacies of capturing spherical images. Visualpathy.com photographers now offer their technical know-how and hard-earned efficiency to their clients who want to have a panoramic view of their stores, offices or real estate projects.
The photographers also told the press that electronic delivery and retouching of the panoramic snapshots can be completed within two business days, no matter how big or small the project is. "We also encourage aspiring photographers to learn the nitty-gritty of 360 photography. If someone is eager to learn more about 360 photography, he can simply write to us or subscribe to our blog. The most common question we face is how to create the 360 photo. Well, we have explained the basics in a lucid way in our blog and anybody who wishes to learn more about 360 photography can visit our blog to gather more information," said Sean Pan, a media spokesperson and also one of the key people running the studio.
Sean also informed the press that they have launched a separate social media platform to make it easier for both clients and photography trainees. The APP platform, as he informed, will remain free. "We now offer high-quality viewing glasses that are specially made for viewing VR ready 360 photographs," added Sean.
Visualpathy.com also offers an iOS APP for easy virtual reality photos and videos sharing. The app is compatible with iOS 8.0 or later.
About the Company
Visualpathy.com, or simply VisualPathy, is a 360 photography studio. To know more, visit http://www.visualpathy.com/
For media Inquiry:
Company Name: 
VisualPathy Technology Inc
Contact Person: Sean Pan
Email: Visualpathy(at)VisualPathy(dot)com
Phone: (917)-662-8261