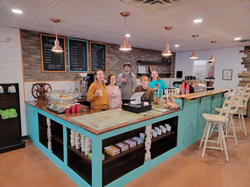 "I think a person would be crazy to do this without the hand-holding Crimson Cup provides. You want to start with the wow factor, and we've been able to do that with their help." - Paula Millar, Owner, Vita Nova Creatives & Coffee
COLUMBUS, Ohio (PRWEB) February 15, 2022
At the new Vita Nova Creatives & Coffee in Nokesville, Virginia, guests sip exceptional coffee and tea and browse an eclectic collection of handmade gifts by local artisans.
When the shop opened February 4, it fulfilled years of planning by owners Paula and Tom Millar and their family of shareholders, including daughters Becca Ferguson and Danille Lynch and daughter-in-law Jessica Millar. Son Jared Millar works behind the counter as a barista.
Paula and Tom Millar have been together since they were in high school. After Tom retired from the U.S. Air Force in 2005, they both worked in ministry and real estate.
While homeschooling their four children and leading the children's ministry at her local church, Paula dreamed about creating a space that would combine her artistic interests and passions and allow her to share them with others.
Tom, a private pilot, often flew the couple to explore new scenes. "As we traveled, we loved to stop in the cute little independent coffee shops in the area," Paula recalled. "Each shop has its own personality and style, and we often talked about how much we would like to put our hearts into a shop of our own."
A rapid series of open doors brought Paula's dream to life. In October 2020, she and daughter-in-law Jessica Millar attended a retreat for creatives in Waco, Texas. There, they received the encouragement and business coaching they needed to pursue the possibilities.
Similar serendipities led the Millars to Crimson Cup Coffee & Tea, an award-winning coffee roaster that teaches entrepreneurs how to open their own coffee shops.
"We saw a presentation at Coffee Fest in Baltimore, and decided to buy the 7 Steps book," Paula recalled. "We had that for several years and got more serious and finished reading it."
The book, Seven Steps to Success: A Common-Sense Guide to Succeed in Specialty Coffee, by Crimson Cup Founder and President Greg Ubert, showed the couple their own coffee shop was within reach.
Then, someone pointed Paula to Village Chic, a coffee shop boutique in South Charleston, Ohio. Soon, she ran across Rare Bird Emporium, a coffee-and-gift shop in Murphy, North Carolina. Both shops opened through Crimson Cup's 7 Steps to Success coffee shop startup program, based on Ubert's book.
"We had also been going to The Grounds coffeehouse in Fredericksburg, Virginia and realized that they also started through Crimson Cup and serve their coffee," Paula said.
Through its 7 Steps to Success coffee shop startup program, the Columbus roaster helps entrepreneurs open and run thriving coffee businesses serving their local communities.
"We're honored to help Paula, Tom, Becca, Danille, Jessica and their family bring terrific coffee to Nokesville," Ubert said. "We look forward to helping them grow their business over the months and years to come."
Through the 7 Steps program, Crimson Cup has helped hundreds of entrepreneurs in 30 states start unique coffee shops in their local communities. In 2021, 19 new independent shops opened through the program. Vita Nova is one of at least 18 shops planned for 2022.
From choosing the right location and writing a solid business plan to training baristas and marketing to customers, 7 Steps coffee shop startup consultants guide new owners from initial concept through opening day and beyond.
"We were coming in blind on the coffee side of things," Paula said. "We needed someone who knows the business to tell us what to do. The 7 Steps team from Crimson Cup has been there to answer questions we didn't even know we had!"
7 Steps Trainer and Project Manager Steve Bayless visited the shop the week before the soft opening to train Paula and her team in drink preparation and all aspects of coffee shop management.
Paula found two of the steps especially valuable. "Step 3, the layout, was really, really important from the get-go," she said. "Step 5, training, amazed even my daughters who have worked in a coffee shop before. The level of detail and the way Steve taught us how to do it just amazed us."
"I think a person would be crazy to do this without the hand-holding Crimson Cup provides," she added. "You want to start with the wow factor, and we've been able to do that with their help."
Now open at 13051 Fitzwater Drive in Nokesville, Vita Nova Creatives & Coffee offers a warm, friendly place to connect over terrific hot, iced or blended coffee drinks and local baked goods.
Paula, Tom, and the rest of their family invite everyone in Prince William County and beyond to visit Vita Nova, which means "new life" in Latin.
"We're really excited to be in the community," Paula said. "There's not a great gathering space around here, so I love that our friends and neighbors can come in and connect in a creative, bright, family-oriented space. In fact, two women who haven't seen each other since high school reconnected here by chance just this morning."
Shoppers will find a wide selection of unique apparel, gifts, furniture and home décor. Currently, the shop has locally handcrafted products from 18 active vendors on display.
The space also enables local artists express their creativity through a large stock of paint and art supplies. The team plans to add art instruction and craft classes in the future.
The coffee, roasted by Crimson Cup, has won a warm welcome from local coffee lovers. The roaster's exceptional craft and specialty have earned top honors at the Good Food Awards, Golden Bean North America, Roast magazine's Roaster of the Year and other competitions.
The fan favorite so far is the Vita Nova Mocha. This signature latte has a rich white chocolate flavor complimented with caramel swirls and topped with whip cream and caramel drizzle.
"Our mission at Vita Nova Creatives & Coffee is to create an environment where art and relationships flourish," Paula said. "We invite people to gather together as fellow neighbors over a cup of their favorite coffee."
To keep up with events and announcements, including new menu items, classes and future grand opening celebrations, follow the store's Facebook Page.
About Crimson Cup Coffee & Tea
Founded in 1991, Crimson Cup is at the forefront of the coffee industry. Its attentive roasting, coffee shop startup support and global partnerships are consciously designed for the greater good of communities around the world. Among other national recognitions, the company has earned 2020 and 2017 Good Food Awards, the 2019 Golden Bean Champion for Small Franchise/Chain Roaster and Roast magazine's 2016 Macro Roaster of the Year.
Crimson Cup travels the world searching for the perfect cup – driven by meaningful relationships, honesty and a shared vision for the future. Its Friend2Farmer initiatives foster respect and decency through mutually beneficial collaborations across local and global communities.
Through its 7 Steps to Success coffee shop startup program, the company teaches entrepreneurs to run independent coffee houses in their local communities. By developing a coffee shop business plan, entrepreneurs gain insight into how much it costs to open a coffee shop.
Crimson Cup coffee is available through over 350 independent coffee houses, grocers, college and universities, restaurants and food service operations across 30 states, Guam and Bangladesh. The company also owns four Crimson Cup Coffee Shops and a new CRIMSON retail flagship store. To learn more, visit crimsoncup.com, or follow the company on Facebook and Instagram.