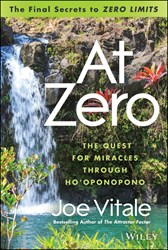 'At Zero' shows readers how to easily overcome the problems in their programming by becoming part of the solution—by awakening.
Hoboken, NJ (PRWEB) November 24, 2013
Virtually everything people do is a result of the unconscious mind causing them to act out of programming that they barely know exists. Without addressing a belief system, people risk allowing those beliefs they hold to undermine all of their efforts. Yet people have more power and control over their unconscious mind than they ever suspected. "At Zero" shows readers how to easily overcome the problems in their programming by becoming part of the solution—by awakening.
Author Joe Vitale's previous books, "Zero Limits," presented a unique self-help breakthrough focused on helping overworked, overstressed individuals overcome obstacles and achieve their goals. It was the first book to explain how a secret Hawaiian method called Ho'oponopono can help people experience health, wealth, happiness, and more. It empowered thousands of readers to take control of everything in their lives in order to achieve all they've ever dreamed of.
His new book, "At Zero: The Final Secrets to "Zero Limits" The Quest for Miracles Through Ho'oponopono" (WILEY; Hardcover & e-book; $25; ISBN: 978-1-118-81002-6), starts where "Zero Limits" left off, taking the story one step further by telling new stories, revealing new processes, introducing a new healer, and revealing the fourth stage of awakening: enlightenment itself.
Vitale explains how this simple method of healing changes lives. Through a process called "cleaning"—and repeating the phrases "I love you, I'm sorry, Please forgive me and Thank you"—people can delete beliefs that they hold that they aren't even aware of, making their adventure through life easier. The more a person cleans, the closer they get to Zero; the state of magic, miracles, and no limitations.
"After learning the basic four-phrase Ho'oponopono process people often complain that more negative events than positive ones seem to occur. Why does this happen?" says Vitale. "Think about a glass of water that's been sitting for a while. When you stir it, the gunk floats around and some of it invariably rises to the top. You have to keep cleaning to catch all of the dirt. The programming in our minds rests in deep and murky places, so we may experience darkness before we experience the light. But we have to get the debris out before we get to the clean water. Cleaning, literally, cleans."
Life will always present challenges. The practice of Ho'oponopono guides supporters through the journey of life with the tools they need to rid themselves of hindrances and open themselves up to infinite possibilities.
About the author
Joe Vitale, globally famous author, speaker, musician, healer, and movie star, is an authentic practitioner of modern Ho'oponopono. He is also a certified Reiki healer, certified Chi Kung practitioner, certified clinical hypnotherapist, certified NLP practitioner, ordained minister, and holds a doctorate in metaphysical science. He is author of the bestsellers The Attractor Factor, Life's Missing Instruction Manual, and many more, including Zero Limits (with Dr. Hew Len), The Awakening Course, Hypnotic Writing, and The Key, all published by Wiley. Dr. Vitale is a standout star in the hit movie The Secret. He's the creator of Miracles Coaching®. He lives outside of Austin, Texas.
For additional information about the author, please visit http://www.JoeVitale.com.