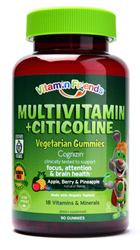 NEW YORK (PRWEB) December 20, 2019
Vitamin Friends, makers of high-quality, gelatin-free gummy vitamins, recently announced the launch of Multivitamin + Cognizin® Citicoline, the brand's latest innovative product that functions to deliver a healthy level of daily vitamins and minerals while supporting one's brain health, mental energy and focus*.
Developing a multi-vitamin made with branded brain health nutrient Cognizin® Citicoline is an exciting move for Vitamin Friends, describing the product as "much more than your average Multi." Kyowa Hakko Bio, health ingredient manufacturer of Cognizin® Citicoline and global leaders in the development, manufacturing and marketing of pharmaceuticals, nutraceuticals and food products, is equally excited about the new product's formulation.
Elyse Lovett, MS, MBA, Senior Marketing Manager of Kyowa Hakko U.S.A. Inc, remarks, "We couldn't be more thrilled for this new product launch. A daily multi-vitamin that will also be working to support healthy cognitive function* through Cognizin® Citicoline's clinically-researched benefits is a great advancement for Kyowa Hakko and the dietary supplement industry as a whole."
Citicoline is a naturally occurring brain nutrient that is found in the body and is especially vital to brain health. Cognizin® Citicoline is a branded, high-quality form of citicoline that is clinically studied to support mental energy, focus, attention.* Cognizin® Citicoline is developed using an innovative fermentation process and is vegetarian, allergen-free and listed as GRAS.
In addition to its formulation with Cognizin®, this multifaceted multivitamin also includes 18 vitamins and minerals and is Certified Organic By Oregon Tilth. Rather than gelatin, it's made with Pectin, which is derived from citrus peel that is high in fiber and is well tolerated. As a company created by parents who demanded a safe alternative to gelatin- isn't always well-digested by humans- Vitamin Friends is a champion for delivering high-quality ingredients and effective products that are developed, formulated and packaged in the USA. Vitamin Friends is also certified as 100% Allergen Free and Kosher.
Vitamin Friends' high-quality standards function in perfect alignment with Kyowa Hakko's commitment to developing the highest quality, clinically researched, and efficacious health ingredients.
Vitamin Friend's Multivitamin + Cognizin® Citicoline is available online on Amazon and at http://www.vitaminfriends.com.
Media interested in setting up an interview with a representative from Kyowa Hakko USA please contact Sara White at sara@adinnyc.com or 212-693-2150.
*These statements have not been evaluated by the Food and Drug Administration. This product is not intended to diagnose, treat, cure or prevent any disease.
About Cognizin® Citicoline
Cognizin® Citicoline, manufactured by Kyowa Hakko Bio Co., Ltd., is a clinically studied and branded form of Citicoline, a natural substance made endogenously in the body and especially vital to brain health.* Citicoline is a potent brain-health nutrient. A proprietary form of citicoline, Cognizin® has been clinically studied to support mental energy, focus, attention, and recall. Cognizin® is manufactured through a fermentation process to yield high quality and high purity. Cognizin® is also highly stable, GRAS, ultra-pure and allergen-free. For more information on Cognizin®, visit Cognizin.com.
About Kyowa Hakko USA
Kyowa Hakko USA is the North & South American office for Kyowa Hakko Bio Co. Ltd., an international health ingredients manufacturer and world leader in the development, manufacturing, and marketing of pharmaceuticals, nutraceuticals and food products. For more information visit Kyowa-USA.com