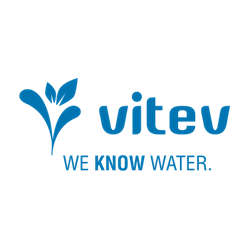 Toronto, Ontario (PRWEB) September 19, 2017
Public outrage over the toxins that exist in tap water and the lack of governmental regulation of pollutants have fallen on deaf ears, leaving the water industry itself to research, develop and ultimately supply consumers with healthy drinking water alternatives. Vitev is one company that stays ahead of the curve in the field of natural alkaline water technologies, water filtration systems, and consumer education.
Vitev knows water! Asked what led to the development of Vitev's latest ultra-filtration alkaline water filters, Vitev President Gabe Hunninghake states, "When we first started in 2010, we went with a basic filter to eliminate the most common complaints. Things like chlorine, smells and tastes. Gradually we added other options like reverse osmosis, and simple portable systems. But with the growing problem of crumbling water infrastructure and toxins like lead leaching into so many communities, we wanted to find a solution that could work almost anywhere, and wasn't as complicated as reverse osmosis. Our new high-end, ceramic filters are the answer."
The latest ultra-filtration FLO+ countertop alkaline filter and the UNDR+ undersink alkaline filter both offer two stages of filtration. The first is a 10" ceramic filter cartridge that cleans the water and eliminates the widest spectrum of toxins available, reducing herbicides, pesticides, chloramine, bacteria, heavy metals, lead, fluoride, and more. The clean water then enters stage two where it reacts with Vitev's mineral mix to create the alkaline, antioxidant and molecular hydrogen benefits that Vitev water is renown for.
"One of the things we really like about our natural, mineral based method of creating alkaline water is the way we can pair it to fit nearly any situation, or filtration method," says Gabe Hunninghake. As consumers hunt for healthy drinking water solutions, Vitev stands to the challenge.
More About Vitev:
Founded in 2010, Vitev knows water! In an industry tainted with misinformation, marketing ploys, and exuberant price tags, Vitev alkaline water is in a class of its own. Founded on a technical understanding of water, built on knowledge and expertise, Vitev is dedicated to providing affordable, healthy drinking water options to consumers.
From research and development, to manufacturing, Vitev is hands-on throughout the process and truly understands the nuances of water filtration systems. Always on the cutting edge of innovation, Vitev was the first company to introduce mineral-based alkaline water filtration systems to the US market.
Vitev is also dedicated to consumer education, providing easy access to information and experts with their Water Learning Center; and continues to raise awareness about community water quality, impurities, toxins, and the importance of access to healthy drinking water.