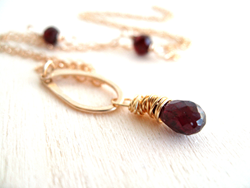 My Garnet Teardrop Necklace conveys a timeless, romantic feeling that will stand the test of time.
Dubai, United Arab Emirates (PRWEB) February 10, 2015
Candice D'Mello, designer/owner, Vitrine Designs (http://www.vitrine.etsy.com) has had her artisan-crafted Garnet Teardrop Necklace written into several episodes of Season 6 of The Vampire Diaries. The necklace was first worn by Gail Salvatore (Tadasay Young) on episode 604 (minute marks 16:12 and 28:55), and later by Gail's daughter, Sarah Salvatore (Tristin Mays), on episode 611 (minute marks 14:25 and 34:05) and episode 613 (minute marks 15:20 and 22:40). The episodes aired in October, 2014 and January and February, 2015.
Candice's Garnet Teardrop Necklace was selected for use on The Vampire Diaries by wardrobe stylist Leigh Leverett after she discovered it in a stylist gift bag presented to her by California-based The Artisan Group®. After the piece was worn by Gail on episode 604, Candice was contacted by the stylist through The Artisan Group to make duplicates, as the necklace was to be written into the storyline, where it would be worn by Gail's daughter Sarah.
The Garnet Teardrop Necklace showcases a handcrafted 14k gold filled hammered teardrop focal with a wire wrapped garnet gemstone briolette. The focal is accentuated by a chain with garnet rondelles. The piece retails for $59.00 at Vitrine Designs on Etsy.
The designer says she created the necklace specifically for The Vampire Diaries. "With this piece of jewelry, I wanted to communicate a timeless, romantic feeling that would stand the test of time, and be appropriate for The Vampire Diaries storylines, which span both decades and generations."
This is not the first time Candice's jewelry designs have been worn on The Vampire Diaries. Caroline Forbes (Candice Accola) donned a Mookaite Jasper "Bite of the Vampire" Necklace on Season 5 Episode 516 (minute mark 1:11).
"This second experience with designing a piece of The Vampire Diaries jewelry has been just as fun and exciting as the first," remarked Candice.
In other news, Candice's Rough Diamond Necklace was been worn on The Young and The Restless by Avery (actress Jessica Collins). The necklace was seen on episode 10516, which aired October 10, 2014. The rough diamond necklace in blue is another modern yet timeless Vitrine Designs piece, and comes in pale pink, as well as white.
The last four months have brought great exposure for Vitrine Designs. The host of OK! TV USA, Julie Alexandria, has worn Vitrine Designs jewelry while covering New York Fashion Week and during an appearance on the Wendy Williams Show. The stylist of Hollywood Today Live also styled host Portia Coleman using one of Candice's cocktail gemstone rings. Candice was one of a handful of local brands chosen to attend GraziaFest, the first of its kind festival in Dubai, United Arab Emirates, where pop singer Eliza Doolittle headlined. Candice has participated in a number of pop up shops in Dubai and was featured in Ahlan! Magazine in the UAE. Her jewelry was also featured in a styled wedding shoot in Dubai.
Vitrine Designs jewelry were included in The Artisan Group celebrity gift bags for GBK's 2014 Golden Globes Luxury Gift Lounge, where Candice's Titanium Druzy Quartz Necklace was gifted to Elena Sanchez (The Hunger Games), Mateus Ward (Hostages), Dylan Neal (Arrow, Bones), Rebecca Field (The Client List), Kirsten Nelson (Psych) and Sufe Bradshaw (Veep).
Candice's Carnelian Gemstone Earrings with Turquoise, Lapis Lazuli and Coral were gifted at GBK's 2013 Primetime Emmys Luxury Gift Lounge, where they landed in the hands of Camille Grammer and Joyce Girraud (Real Housewives of Beverly Hills), Lesley Nichol (Downton Abbey), Meghan Ory (Once Upon a Time) and Emmy winner Tony Hale (Veep).
At GBK's New York Fashion Week Luxury Gift Lounge, Candice gifted a Faceted Jasper Gemstone Cocktail Ring, which has subsequently been worn by Simone Heng, co-host at Digital Fashion Week in Singapore and by Aishwarya Ajit, presenter of StudioOneLive at Dubai One TV.
To learn more about Vitrine Designs, contact Candice D'Mello by phone or email. Become a fan on Facebook (VitrineDesigns) and follow the company on Twitter (@VitrineDesigns) and Instagram (@VitrineDesigns).
For more information about The Artisan Group, visit theartisangroup.org.
ABOUT VITRINE DESIGNS
Candice D'Mello of Vitrine Designs (http://www.vitrine.etsy.com) creates fresh, contemporary designs that incorporate druzy gemstones, precious and semi-precious stones and birthstones. Stylish with an edge, they offer the wearer the ability to accessorize for a daytime or evening look, and can be worn time and time again. The pairing of Candice's eye for unusual details alongside her love of raw gemstones results in unlikely combinations of color and metal, much to the delight of her customers, who hail from around the world. Each Vitrine Designs piece is lovingly handmade by Candice in her studio in Dubai, United Arab Emirates.
Vitrine Designs is a proud member of the Artisan Group®.