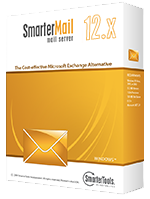 "SmarterMail 12 is an excellent Email Server alternative to the far more expensive Microsoft Exchange Server; and ViUX offers both Hosting and Licenses to meet any SmarterMail need." - J.T. Smith, ViUX.com
Raleigh, North Carolina (PRWEB) April 23, 2014
SmarterMail 12.1 has just been released by SmarterTools, for which ViUX Systems (a long-time SmarterTools Partner) provides three levels of expert SmarterMail Hosting; as well as, the option to order independent SmarterMail Licenses from ViUX.com for activation on your own SmarterMail Server - which is perfect for those with in-house IT or Hosting Providers.
For those seeking SmarterMail Hosting, ViUX.com pricing starts at only $4 per month for SmarterMail Enterprise 12.1 Shared Cloud Hosting - including CommTouch Antispam & Antivirus; plus optional MS-Exchange ActiveSync.
SmarterMail Hosting on a Private Cloud Server as a Cloud VPS Container or Hypervisor is $40/mo or $100/mo (respectively), including a bundled SmarterMail 12.x Professional Edition (250 Mailbox) License - a $300 or $15/mo value.
ViUX SmarterMail Hosting options are geared towards those seeking Email Hosting via SmarterMail; however ViUX also offers SmarterMail as the Email Server for those seeking Hosting for full Websites. Through the use of Parallels Plesk Automation (PPA), ViUX is able to bundle SmarterMail on Windows with Linux Shared Cloud Hosting - within the same subscription. This is great for those Hosting Linux Applications, like: WordPress, Joomla, Drupal, or Pinnacle Cart - who also want the BEST Email Server on Windows, despite being on Linux Hosting.
Best of all, being that SmarterMail 12 is such a feature rich Email Server, and ViUX has expertise with SmarterMail going back to 2006 - ViUX is able to provide rock-solid SmarterMail Hosting via Parallels Cloud Server (PCS) & SSD Cloud Storage running on Premium Dell Cloud-Series (C6220) Servers.
But for those with their own SmarterMail Server, such as companies with in-house IT staff or even other Hosting Providers - ViUX has you covered as well. ViUX is a SmarterMail Reseller and Lease-Reseller, thereby able to issue SmarterMail monthly leased licenses starting at $15; or 10% discounted license purchases, upgrades or even renewals of existing licenses. Contact ViUX directly to inquire about any on-going promotions or additional discounts that may be available.
Additionally, when purchasing, leasing, upgrading or renewing your SmarterMail License(s) on ViUX.com - you do not have to wait! ViUX.com is completely integrated with the SmarterTools API, so you get the new or updated SmarterMail License key instantly (24/7) via Email from both SmarterTools and ViUX; as well as, posted within the ViUX Control Panel.
Regardless of if you need SmarterMail Hosting, a SmarterMail License - or BOTH... ViUX.com is your one-stop-shop for all things SmarterMail.
----------
About ViUX:
ViUX Systems, Inc. is a privately held North Carolina Corporation established in 2003 with the mission to provide individuals and businesses of all types and sizes with the Web / Internet Technology and Software Solutions required to offer their products and services to the world with Vision, Understanding, & eXperience in Web Services.