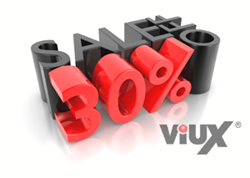 SmarterTools Software is perfect for those who are serious about doing business online... so how can anyone go wrong with getting SmarterMail, SmarterStats, and SmarterTrack at 30% off? - J.T. Smith, ViUX Systems
Raleigh, North Carolina (PRWEB) January 05, 2015
ViUX Systems, a long-time SmarterTools Partner has announced they're increasing the normal ViUX 10% discount for SmarterMail, SmarterStats, and SmarterTrack Software to 30% for the entire month of January!
ViUX Systems has always offered a 10% discount off the normal retail price of SmarterTools Software Licenses since their partnership began with SmarterTools back in 2006; however to celebrate their best partnership year yet – and to get 2015 started off with a bang… the normal ViUX 10% discount is being tripled to 30% for the entire month of January.
The ViUX Systems discount of 30% off SmarterTools Software is for Purchased (Perpetual) Licenses of: SmarterMail; SmarterStats; & SmarterTrack – for the month of January 2015. This 30% discount offer does NOT cover any license add-ons or existing license upgrades / renewals, for which the normal ViUX 10% discount still applies. The 30% discount promotion is ONLY for NEW Licenses for SmarterTools Software (SmarterMail; SmarterStats; & SmarterTrack) purchased in the month of January 2015 from http://smartertools.viux.com.
For example, a Purchased License for SmarterMail Professional (250 Mailboxes) would normally cost $299.00 from: smartertools.com; or $269.10 (after 10% discount) from: smartermail.viux.com – however with the 30% discount promotion from ViUX, that price is now only $209.30 for the month of January 2015 (a savings of $89.70). Optionally, ViUX Systems also offers this same SmarterMail License (as well as those for SmarterStats & SmarterTrack) as a Monthly-Lease from only $15 per month.
If you have been considering SmarterTools Software, now is the time to proceed, plus you are protected for the future… When you PURCHASE your license it comes with Upgrade Protection for 12-Months; or when you LEASE your license it comes with FREE Upgrades for the LIFE of your Lease. So either way, you are protected now and into the future, making this the perfect time to get SmarterTools Software License for: SmarterMail 13.x; SmarterStats 10.x; or SmarterTrack 10.x.
Take advantage of the ViUX 30% SmarterTools discount promotion for January 2015 by entering code "SMARTER30" during checkout from smartertools.viux.com. And because ViUX is completely integrated with the SmarterTools API, you will get your License Key both via Email and posted within the ViUX Control Panel within minutes after making payment via PayPal or Credit Card (24x7x365).
----------
About ViUX Systems:
ViUX Systems, Inc. is a privately held North Carolina Corporation established in 2003 with the mission to provide individuals and businesses of all types and sizes with the Web / Internet Technology and Software Solutions required to offer their products and services to the world with Vision, Understanding, & eXperience in Web Services.
----------
About SmarterTools:
Founded in 2003, SmarterTools Inc. is an Information Technology / Management Software company based in Phoenix, Arizona. SmarterTools builds a Windows Mail Server (SmarterMail), Customer Service Software (SmarterTrack), and Web Log Analytics / SEO Software (SmarterStats) that simplify and automate the day-to-day IT operations of Businesses and Hosting environments in over 100 countries.