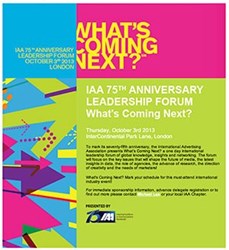 New York, NY (PRWEB) September 30, 2013
Vivaldi Partners Group (http://www.vivaldipartners.com/), a growth strategy firm, today announced that Founder and CEO Erich Joachimsthaler will deliver a keynote address at the International Advertising Association's (IAA) 75th Anniversary Leadership Forum (http://iaa75.org/london/) on October 3, 2013 in London. At both a strategic and tactical level, the one-day program will examine the most topical and fast moving issues facing the global marketing industry today.
In his keynote address entitled "Maintaining consumer engagement. It's the brand stupid!" Joachimsthaler will explain why a traditional approach to communications with consumers is no longer enough with the increasing role of digital and social channels. He will also delve into why the emotionalization of a brand is necessary to drive consumer loyalty and engagement in today's marketing landscape.
"The advent of social and digital media has presented both challenges and opportunities for the modern marketer," said Faris Abouhamad, IAA Chairman and World President. "Having Dr. Joachimsthaler on our speaker roster offering his perspective on what it takes to build and grow a brand in the digital age aligns perfectly with the leadership forum's theme. We look forward to hearing his thoughts on how to break through the social media clutter to effectively engage consumers."
Erich Joachimsthaler is a thought leader in branding, innovation, and global marketing with more than 40 published articles and author of two important books on brands. He is also engaged in many consulting projects and undertakes extensive research on global brands, technology, and the formulation of corporate and business-unit level strategies.
In addition to his participation in IAA's leadership forum, Joachimsthaler will also be presenting his strategic concept of "Social Currency" at several other industry-leading events this fall, including:

Research & Results, Munich, Germany, October 23, 2013. Erich Joachimsthaler will present "Social Currency – what it takes to create lasting impact."
Ideagoras: Building Social Brands at the Intersection of Tech, Creativity and Media, November 14, 2013, Madrid, Spain. Erich Joachmisthaler will present "Love Is Not Enough: Social Currency & The New Way of Building Brands."
"I'm honored to be a part of IAA's 75th Anniversary Leadership Forum and look forward to spreading the message of "Social Currency" at several events this coming fall," said Joachimsthaler. "These are great opportunities to engage with my fellow branding professionals on the importance of using social media effectively to build and grow brands."
About Vivaldi Partners Group
Vivaldi Partners Group (http://www.vivaldipartners.com) is a global firm that unlocks innovation and growth opportunities for brands and businesses in a digitally connected world. Vivaldi Partners Group uses its expertise in strategy, innovation, marketing, and organization to identify new demand-based opportunities, build strong brands, create and realize engaging experiences, and lead change through the development of people. Vivaldi Partners Group comprises of Vivaldi Partners, Fifth Season, a digital, design and technology agency, and E-Edge.