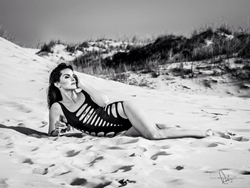 We architects know the HOW, not the WHAT ... we must have the 'know how' to translate whatever - Patrik Schumacher, the partner at Zaha Hadid Architects (ZHA) and the author of the 'Parametricist Manifesto'
(PRWEB) March 27, 2014
Spearheaded by Vera Viviona Wang, Viviona provides an avenue for the fashion conceptualists to meet with private label designers, manufacturers, distributors, retailers and buyers. Viviona secures professional presentation in a rather complex world of fashion, that is, if you do not have any connection to penetrate such an enormous industry. Visit http://www.viviona.com for more info.
Further, it was in 2012 when Viviona started venturing into launching its own swimwear label. For its 2014 Swimwear Collection, Viviona partners with Zaha Hadid Architecture Firm which is basically a connoisseur in combining architecture and fashion. This Architecture Firm is actually spearheaded by Zaha Hadid herself.
Zaha Hadid is a multi-awarded architect of Iraqi and British descent. She was the first woman recipient of Pritzker Architecture Prize in 2004 and Stirling Prize for two consecutive years (2010 and 2011). Both of these award-giving bodies honor those people that contribute greatly in the field of architecture and built environment specifically in Britain. Born Dame Zaha Mohammad Hadid, she is considered as one of the most powerful women in the UK.
Lately though, Zaha Hadid Architecture Firm starts venturing into the fashion industry, working with the likes of United Nude, Melissa, Louis Vuitton, Swarovski, Chanel, and Lacoste as well as with the who's who of the fashion industry such as Naomi Campbell, Rem D. Koolhaas, Stuart Weitzman, and Karl Lagerfeld. Glamour Magazine even recognized Zaha Hadid as its 2012 Woman of the Year.
It would be the first for Zaha Hadid Architecture Firm to co-design a women's swimwear collection and the first for Viviona to collaborate with the famous architect-cum-fashion designer. With skills and know-how that are more appropriate for designing clothes, shoes and bags among others than designing buildings, Zaha Hadid Architecture Firm designs her creations by hand. In their own words and with Viviona's fabulous meter on the 10th scale, these will be swimsuits that are good to look at, but are even better when worn.
The swimwear designs is available for wholesale on Modalyst http://www.modalyst.co. You can view the entire collection here: http://www.vivionaswimwear.com.