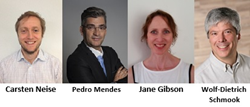 Vivit depends upon the power of our volunteers to deliver high value to our members by sharing their experiences with HPE software.
Boulder, CO (PRWEB) November 29, 2016
Vivit today announced the EMEA and Asia-Pacific award winners at the Hewlett Packard Enterprise (HPE) Discover Conference in London, UK. The Board of Directors presented:

Leader of the Year Award to Carsten Neise (Germany)
Speaker of the Year Award to Pedro Mendes (Portugal)
Champion of the Year Award to Jane Gibson (Australia)
Top Virtual Contributor Award to Wolf-Dietrich Schmook (Germany)
"Each year, the number of Vivit's volunteers increases and so do their contributions," said Tammy Young, Local User Group and Special Interest Group Chair, Board of Directors. "Vivit depends upon the power of our volunteers to deliver high value to our members by sharing their experiences with HPE software. They contribute by speaking, leading, authoring content, and championing the Vivit mission. Year after year, Vivit volunteers raise the bar, and we tremendously appreciate their contributions."
Leader of the Year:
Dr. Carsten Neise received the Leader of the Year Award for expanding the Testing, Quality, and Application Lifecycle Management Special Interest Group in the northern and eastern part of Germany. He leads regular meetings for members in this region and has begun hosting meetings for members in the entire DACH region.
Dr. Neise is Senior Consultant at profi.com and has more than five years of experience in software development and software testing. He focuses on the effective test design completed by using test automation tools properly; he combines this with test data management (including the measure of test data quality) and service virtualization. Neise also conducts load and performance tests, and he has a passion for model based testing.
Speaker of the Year:
Pedro Mendes received the Speaker of the Year Award for sharing his practitioner's expertise on data protection and recovery, Big Data, and Internet of Things through Vivit webinars and sessions at the annual Discover conferences in Europe. Members value his focus on the benefits and not only on the technology. Mendes said, "sometimes there is a gap between technology and benefits; that's where I think we can make all the difference." His efforts to deliver the best content possible is being recognized through this award. Mendes also serves as the Leader of the Portugal Local User Group.
Mendes is a Business Unit Manager at Datasmart. Previously, he worked as a Client Manager for a French Multinational company called GFI. He has a post-graduate degree in project management, and he is a Microsoft Certified System Engineer.
Champion of the Year:
Jane Gibson received the Champion of the Year Award for expanding the Vivit community throughout Asia-Pacific. She has worked tirelessly in building an HPE software customer community across the region by hosting regular technical customer forums to showcase solutions and networking events for executives. Gibson also partnered with Vivit to host webinars delivered by customer speakers often sourced from the Vivit community to share their experiences of using HPE software in their business. Membership in Asia-Pacific has grown considerably during this time.
Gibson, HPE Software Customer Advocacy Lead Asia-Pacific, has worked with HPE for thirteen years. Her passion is hearing what customers have to say, giving them a voice to promote their success and in networking amongst their peers.
Top Virtual Contributor:
Wolf-Dietrich Schmook received the Top Virtual Contributor Award for his participation in and contributions to Vivit's website which is the hub of the worldwide community. He has been a member since 2000 and one of the first contributors and moderators for the online product forums. Schmook also regularly participates in webinar events which has earned him the title of Top Virtual Contributor. He delivered the first Network Node Manager training in Germany many years ago. Due to the complexity of the ever growing portfolio of HPE software, he has designed and developed the Concepts, Components and Functions (CCF) trainings for HPE Software Education Services.
Schmook, CTO at cTc GmbH in Germany, is a trainer and coach for IT related topics, including IT-Operations with almost all related HPE software products: AM, APM, BPM, BSM, CMS, CO, CSA, DCA, DP, LR, NA, NNMi, OM, OMi, OO, PM, SA, SM, SiS, SOM, UCMDB, and UD. For over twenty-five years, he has been teaching HPE courses and working with customers in over thirty countries to help them make better use of their systems, complete successful integrations, trouble shoot, tune, and become familiar with Vivit. He is also among the top ten virtual contributors in HPE's new community, ITOM Insiders.
About Vivit:
Vivit is a non-profit corporation founded in 1993 (as OpenView Forum) by customers of Hewlett Packard Enterprise software products to represent the interests of customers, developers, and partners worldwide. Vivit represents and serves the broad Hewlett Packard Enterprise software and solutions community and is the endorsed Hewlett Packard Enterprise software users group. Vivit currently has members all over the world representing all areas of business and industry.