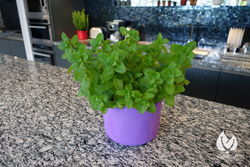 The system is pretty much automatic. You just provide sunlight, nutrients and water and the technology will take care of the rest
(PRWEB) February 11, 2015
Built with the same technology that has the endorsements of both the Malaysian and South African governments, Vivogrow Herb Pot is set to penetrate the US, Canada, UK and EU markets.
The Vivogrow Herb Pot, uses this plant-driven technology to allow users to grow their own herbs without much skill and effort.
Plant-driven technology means that the plant regulates its self-watering process, on demand. The technology will ensure that it always gets the right amount of water and there is no over or under watering.
This effectively means that the Vivogrow Herb Pot enables optimum growth of any type of plant unlike other traditional self-watering systems.
The Vivogrow Herb Pot does not use any batteries, power or electricity. It is an efficient closed loop system where no water or nutrients is wasted or recycled. It can be left unattended for up to a week or longer.
This technology has already been introduced in Malaysia, a country with deep agricultural roots. Following the success of its RM37 million pioneer farm in Pahang, which uses such technology, Najib bin Razak, the prime minister of Malaysia has in recent times launched four more farms with plans to have such farms in each of the 14 states in Malaysia. South African president Jacob Zuma also has similar farm projects to be rolled out all across South Africa.
Other successful large scale projects include Spring City Golf Resort in China (voted 2014 US Golf Digest World's Top 100 Golf Course) and Australia's Flemington Racecourse.
"People are looking to grow their own food these days. The Vivogrow Herb Pot makes things simple and easy. The system is pretty much automatic. You just provide sunlight, nutrients and water and the technology will take care of the rest." said Vincent Ng, founder.
"There is no daily watering. You can start harvesting your fresh herbs immediately if you transplant them into the Vivogrow Herb Pot. You can also grow healthy sprouts or harvest a pot of lettuce every week with our recommended quick start guides."
The Vivogrow Herb Pot launches in Feb 2015. Visit http://www.vivogrow.com/herb-pot/ to learn more.