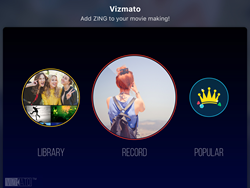 Vizmato is the perfect video editing tool that allows Live FX along with post edit FX. It's a whole new experience!
Atlanta, GA (PRWEB) December 19, 2015
Global Delight's Vizmato (formerly Game Your Video) is the quick and easy way to edit videos. Add zing to movie making with Instant FX, themes, and filters.
Vizmato, formerly known as Game Your Video, is a iPhone/iPad video editing app that adds live instant FX while recording. With a brand new streamlined UI, VFX, and so many new features, Vizmato is the perfect video editing tool that allows Live FX along with post edit FX.
A universal app compatible with all iOS 8/9 devices, Vizmato allows users to add themes, filters, and FX while recording or in post-edit. Once the video is ready, it can be uploaded to the in-built media platform, Popular, the Vizmato social community.
The user interface is brand-new, a new name, a new logo and a whole new set of features, themes, and filters- all, featuring the latest Apple technology. HD recording in 720p or 1080p at high fps, more than 20 FX in full HD recording, and high quality themes with audio and visual FX.
The app runs on iPhone and iPad (with a native iPad interface), and also has a native iPad Pro version. The app now supports both portrait & landscape modes in iPhone 6 Plus, 6S Plus, and all iPads.
Introducing Viztunes: new music albums that have tracks for every mood. Front-facing camera enabled to shoot selfie videos with live FX. Vizmato is available on the App Store.
Global Delight is a leading developer of products for the Mac and iOS markets. Notable Mac products include Voila, an all-in-one solution for screen capture and editing needs for Mac, and Boom, the noteworthy audio enhancer/audio booster for the Mac. On iOS, Global Delight is well known for having made Camera Plus, a total solution for users' mobile photography needs with over 14 Million downloads.