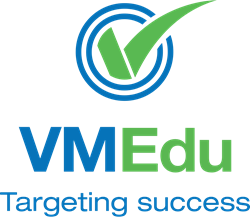 More than 400,000 students from 3500+ corporations across 150+ countries have taken these courses in preparation for professional certification exams.
Phoenix, AZ (PRWEB) June 12, 2014
Do organizations and institutions want to quickly provide online, instructor-led or classroom courses based on their business requirements? Would they want to add more prospective courses to their training portfolios? More importantly, can they do it at a cost that is attractive to students? The answers lie with VMEdu's platform partnership offerings—a "One-Stop Solution" for professional courses for corporations, colleges/universities and training providers who want to increase their training portfolios in the shortest possible time without forfeiting quality and increasing operating costs.
Training providers have a constant and immediate need for quality-oriented physical course materials, online courses, video lectures, podcasts, phone apps, simulated practice tests, and proctored exams, to name a few. Understanding this need, VMEdu implemented a solution in the VMEdu platform. This array of resources provides classroom and online course content, as well as Scrum, Agile and Six Sigma certification programs. PMstudy, MyITstudy, SCRUMstudy, PROJstudy and 6Sigmastudy are brands of VMEdu. More than 400,000 students from 3500+ corporations across 150+ countries have taken these courses in preparation for professional certification exams; VMEdu students have taken the exams with a 98.7% success rate.
PMstudy, as a content provider of PMP courses, uses the platform to provide free resources. These resources include mobile apps, high-quality PMP videos of their Project Management Framework and Project Integration Management chapters, a sample Chapter Test on "Project Framework Management" and "Project Integration Management," sample study guides and podcasts on "Project Time Management," mobile Apps (iOS and Android), and more—all which help to showcase their superior quality and user experience in PMP training and PMP certification exam preparation.
SCRUMstudy offers certification courses such as Scrum Master Certified (SMC™), Scrum Product Owner Certified (SPOC™), and Agile Expert Certified (AEC™). SCRUMstudy uses the platform to provide students with multiple learning tools like free Scrum videos, case studies, mobile apps, and crossword puzzles to ensure that students can learn on the go. A Guide to the Scrum Body of Knowledge (SBOK™ Guide) was developed by VMEdu's subject matter experts for guiding organizations and project management practitioners needing to implement Scrum or improve their processes. It is based on professional experience drawn from thousands of projects across a variety of organizations and industries and is available on VMEdu's platform for free download. 6sigmastudy offers Six Sigma Yellow Belt, Six Sigma Green Belt, Six Sigma Black Belt and Lean Six Sigma Black Belt certification courses.
MyITstudy's online and classroom ITIL courseware has been developed by experts using advanced case studies, a real-life web-based application for case scenarios on the five lifecycle stages, simulated mock tests and chapter tests, which can be used by anyone who wanting to understand and implement ITIL and pass the certification exam. PRINCE2 has also been developed on the same lines.
The VMEdu platform is based on a SaaS model that can be easily replicated, globally across industries. It is built to warrant scalability, which helps partners attain higher levels of business returns. VMEdu has more innovations in the pipeline for their business partners. Anyone interested in their partnership model can get detailed information from their website at http://www.vmedu.com/.