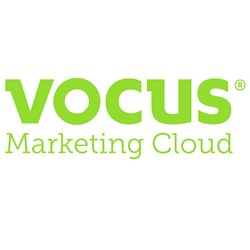 The Vocus Marketing Suite is an all-in-one offering that assists marketers with their demanding jobs. The new features help them understand customer data in order to make effective business decisions with clear and measurable ROI.
Beltsville, MD (PRWEB) November 13, 2013
Vocus, Inc. (NASDAQ: VOCS), a leading marketing cloud provider, today launched the next generation of its Marketing Suite, a comprehensive tool that enables companies to integrate and automate their marketing to drive revenue. The Winter '14 release of the Vocus Marketing Suite introduces major new features, including landing pages, campaigns, social customer relationship management (CRM), and improved tracking. These new capabilities streamline complex, multi-channel marketing campaigns across email, social, PR and search marketing channels to improve online visibility, find and convert new customers, and better measure results.
With the new social CRM capability, marketers can segment and target their marketing by tracking campaign engagement behavior and including data from social networks to automatically build new customer prospects and profiles. New analytics features collect, analyze and present key performance data on all marketing channels in simple and actionable reports. These new tools allow marketers to easily track tactical performance across websites, landing pages, social networks, news releases and email campaigns. By addressing real pain points that confront multi-channel marketers, the Winter '14 release helps businesses improve overall results and report a return on investment (ROI).
"This is the next generation of marketing software," said Vocus Chief Executive Officer Rick Rudman. "The Vocus Marketing Suite is an all-in-one offering that assists marketers with their demanding jobs. The new features help them understand customer data in order to make effective business decisions with clear and measurable ROI. We have a long history of product excellence and innovation at Vocus, and we're very excited to provide a comprehensive marketing solution to customers with the new Vocus Marketing Suite."
Key updates to the Marketing Suite include:
Landing Pages
Landing pages are a critical component of any digital marketing campaign. This new tool lets users create mobile responsive landing pages that capture information and drive action from prospects and customers through email, social media and the Web.
Campaigns
The campaigns feature simplifies the process of managing complex, multi-channel tactics by providing one central place for creation and measurement. Users can combine any mix of activities (news releases, emails, landing pages, social media posts and media pitches) into campaigns to simplify management, tracking and analytics. Since all outreach can be organized by campaign, marketers can better understand the impact of their tactics on their target audience and lead funnel, optimizing their efforts.
Social CRM
Social CRM allows marketers to view all their contacts' activities, which lets them manage the entire prospect or customer relationship. Flag incoming tweets from a user's known contacts, connect social media identities to established email contacts, track known customers when they visit webpages, landing pages and news releases, and tag and segment contacts based on activity. Engagement scoring is also now available for each contact in the CRM.
Tracking
Digital marketing enables marketers to create multiple customized experiences for their customers, but delivering this experience requires a deeper understanding of customer identity and behavior. The Winter '14 release introduces detailed tracking of activity performance, aggregate comparison and campaign-level analytics, and individual activity performance, alongside tracking individual contacts' engagement.
Vocus gives its first live demo of the Winter '14 release on Monday, Nov. 18 at salesforce.com's Dreamforce 2013 Conference at the Moscone Center in San Francisco at the "Integrate, Automate, Simplify" session led by Vocus Director of Product Management Natalia Dykyj.
To learn more about Vocus Marketing Suite's new enhancements and features, visit http://www.vocus.com/software.
About Vocus
Vocus (NASDAQ: VOCS) provides leading cloud-based marketing software and consulting services enabling companies to acquire and retain customers. The company offers an all-in-one suite of applications and consulting services to help clients attract and engage prospects, capture and keep customers, and measure and improve marketing effectiveness. More than 17,000 annual subscription customers across a wide variety of industries use Vocus software. The company is headquartered in Beltsville, MD with offices in North America, Europe and Asia. For more information, visit http://www.vocus.com or call (800) 345-5572.
Forward-Looking Statement
This release contains "forward-looking" statements that are made pursuant to the Safe Harbor provision of the Private Securities Litigation Reform Act of 1995. These statements are predictive in nature, that depend upon or refer to future events or conditions or that include words such as "may," "will," "expects," "projects," "anticipates," "estimates," "believes," "intends," "plans," "should," "seeks," and similar expressions. This press release contains forward-looking statements relating to, among other things, Vocus' expectations and assumptions concerning future financial performance. Forward-looking statements involve known and unknown risks and uncertainties that may cause actual future results to differ materially from those projected or contemplated in the forward-looking statements. Forward-looking statements may be significantly impacted by certain risks and uncertainties described in Vocus' filings with the Securities and Exchange Commission.
The risks and uncertainties referred to above include, but are not limited to, risks associated with possible fluctuations in our operating results and rate of growth, our history of operating losses, risks associated with acquisitions, including our ability to successfully integrate acquired businesses, risks associated with our foreign operations, interruptions or delays in our service or our web hosting, our business model, breach of our security measures, the emerging market in which we operate, our relatively limited operating history, our ability to hire, retain, and motivate our employees and manage our growth, competition, our ability to continue to release and gain customer acceptance of new and improved versions of our service, successful customer deployment and utilization of our services, fluctuations in the number of shares outstanding, foreign currency exchange rates and interest rate.