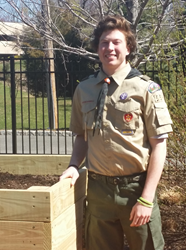 We are very appreciative that Collin chose the Adult Day Club as recipient of his project.
Basking Ridge, NJ (PRWEB) April 15, 2016
Collin Leigh of Watchung, NJ, has fulfilled his Eagle Scout service project requirement with the construction and installation of two raised planting beds at the Adult Day Club of Somerset Hills. Leigh is a member of Basking Ridge Troop 555, part of the Patriots' Path Council. The project will benefit club members, many of whom are disabled by Alzheimer's disease and dementia.
Leigh developed interest in the Adult Day Club when visiting a member in attendance. After discussing project options with Maria Keenan, Adult Day Club Manager, they agreed that the raised planting beds would be a wonderful addition to the Club's enclosed, secure outdoor garden. In addition to being an enjoyable hobby, gardening provides important therapeutic benefits such as sensory stimulation through touch and smell. For individuals with cognitive disabilities, this can help improve mood, decrease agitation, and trigger positive memories, contributing to a better quality of life. The project will provide year-round enrichment program opportunities at the Club. Indoors, members are currently nurturing the seedlings started by Leigh, and will be planting and caring for them during the later spring and summer.
"We are very appreciative that Collin chose the Adult Day Club as recipient of his project. It's been a pleasure working together, and our members really enjoyed the warm and engaging conversation he brought during his interactive presentation," said Keenan. "They look forward to his return."
The Adult Day Club at Somerset Hills offers a supportive and enriching environment that enhances the quality of life for its members. Providing person-centered care in an interactive group setting, the Club is ideal for adults needing companionship throughout the day. Caregivers also benefit because it allows them the freedom to go to work, handle personal business or just relax knowing their loved one is well cared for and safe. The Club has served more than 1,000 community members during the past 27 years. More information about the Adult Day Club at Somerset Hills is available online at http://www.visitingnurse.org, or by calling 908-766-0180.
About VNA of Somerset Hills
The Visiting Nurse Association of Somerset Hills and its subsidiaries provide individuals and families with comprehensive, high quality, cost-effective home and community healthcare services, regardless of ability to pay, using partnerships where appropriate. The VNA is a charitable, tax-exempt home health agency and hospice certified by Medicare, accredited by the Community Health Accreditation Program and licensed by the New Jersey Department of Health and Senior Services. Credentials include a 4.5 star Medicare quality of care rating and recognition as a 2015 HomeCare Elite Agency.