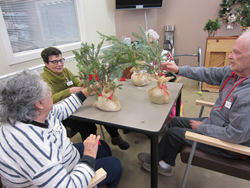 Basking Ridge, NJ (PRWEB) March 20, 2017
The Adult Day Center at Somerset Hills in Basking Ridge, NJ, has launched a professionally-facilitated horticultural therapy program, expanding the range of innovative and unique enrichment activities offered to its older adult clientele. Nature-based techniques used in horticultural therapy aid in achieving rehabilitative, social and vocational goals. Benefits including improved mood, memory, cognition, language, muscle strength, coordination, and balance are valuable for individuals with Alzheimer's disease, dementia and other functional impairments.
Members at the Adult Day Center have enthusiastically embraced the program. "The individual members are always eager and excited to experience the benefits of therapeutic horticulture. They are a delightful group and are always giving me recommendations and ideas for our future programs," said Amanda Mammas, program facilitator. She also notes that the hands-on participation from Center staff has been wonderful, and enhances the overall experience for participants. To date, projects have included evergreen tabletop Christmas trees decorated with ornaments, herbal seed planters, and Valentine's Day floral arrangements.
Mammas, certified in Horticultural Therapy from the Rutgers School of Environmental and Biological Sciences, has facilitated programs at various locations in New York and New Jersey including NYU Langone Medical Center, the Douglass Developmental Disabilities Center at Rutgers, and Allies Inc. of New Jersey. She is also the 2016 Awardee of the Linda M. Ciccantelli Memorial Scholarship by the Mid-Atlantic Horticultural Therapy Network (MAHTN).
Gardening activities have been an integral part of the Adult Day Center program since the Center opened in 1988. The large, fully enclosed outdoor garden offers safe and frequent opportunities for socialization and activity. Features include pathways, raised beds, planting containers, and plants with a variety of colors and textures.
About the Adult Day Center at Somerset Hills
Serving the community since 1988, the Adult Day Center provides a warm and welcoming setting that enhances the quality of life for people who will benefit from companionship during the day, including those with Alzheimer's, moderate dementia, or functional impairments due to stroke or chronic illnesses. Caregivers also receive a much-needed break from their stressful daily routine, allowing time for work and other non-caregiving responsibilities while feeling confident their loved one is safe and not lonely. The care provided at the Center may help delay need for placing a loved one in an assisted living or nursing facility.
About VNA of Somerset Hills
The Visiting Nurse Association of Somerset Hills and its subsidiaries provide individuals and families with comprehensive, high quality, cost-effective home and community healthcare services, regardless of ability to pay, using partnerships where appropriate. The VNA is a charitable, tax-exempt home health agency and hospice certified by Medicare, accredited by the Community Health Accreditation Program and licensed by the New Jersey Department of Health and Senior Services. Credentials include recognition as a 2016 HomeCare Elite® Agency.
For more information about the organization:
Web: http://www.visitingnurse.org
Facebook: http://www.facebook.com/VNAofsomersethills
Linkedin: http://www.linkedin.com/company/vna-of-somerset-hills