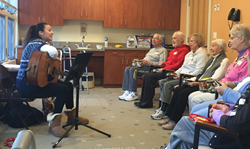 "Regardless of cognitive ability, every participant has the opportunity to benefit from an individualized social and sensory experience."
Basking Ridge, NJ (PRWEB) February 02, 2016
Expanding the range of enrichment activities designed to enhance the quality of life of people with Alzheimer's disease and dementia, the Adult Day Club at Somerset Hills in Basking Ridge, NJ, now offers a weekly music therapy program to all members. According to the Alzheimer's Association, research shows that music can enrich the lives of people with Alzheimer's disease. Using evidence-based methods, professionally trained and certified music therapists develop programs that promote cognitive stimulation, social interaction, and emotional well-being.
Through familiar music and singing, older adults with memory impairment may improve their ability to connect with others in a meaningful way by allowing them to recover forgotten memories about their past. In addition, music therapy may encourage self-awareness, evoke positive changes in mood, and reduce agitation and anxiety.
Alyssa Gonzalez, BM, MT-DC, a Board Certified Music Therapist from Jammin' Jenn Music Therapy, conducts small group sessions with Club clients. Using techniques including reminiscing, instrument use, vocalization, and replication, Gonzalez adapts the curriculum to the varying levels of cognitive disability in each group. "In our music therapy sessions, musical activities are custom designed to promote, specific cognitive, motor, perceptual, communication, and behavioral goals that adaptively address each group. We utilize and leverage music to build a vast array of skills and enhance the overall quality of an individual's life," said Ed Goodman, Managing Director of Jammin' Jenn Music Therapy.
"Because the activities during a music therapy session are designed to stimulate participation, this is a valuable addition to the specialized programming we offer members," said Maria Keenan, Manager of the Adult Day Club at Somerset Hills. "Regardless of cognitive ability, every participant has the opportunity to benefit from an individualized social and sensory experience."
The Adult Day Club at Somerset Hills offers a supportive and enriching environment that enhances the quality of life for its members. Providing person-centered care in an interactive
group setting, the Club is ideal for adults needing companionship throughout the day. Caregivers also benefit because it allows them the freedom to go to work, handle personal business or just relax knowing their loved one is well cared for and safe. The Club has served more than 1,000 community members during the past 27 years. More information about the Adult Day Club at Somerset Hills and the Music Therapy program is available online at http://www.visitingnurse.org, or by calling 908-766-0180.
About VNA of Somerset Hills
The Visiting Nurse Association of Somerset Hills and its subsidiaries provide individuals and families with comprehensive, high quality, cost-effective home and community healthcare services, regardless of ability to pay, using partnerships where appropriate. The VNA is a charitable, tax-exempt home health agency and hospice certified by Medicare, accredited by the Community Health Accreditation Program and licensed by the New Jersey Department of Health and Senior Services. Credentials include a 4.5 star Medicare quality of care rating and recognition as a 2015 HomeCare Elite Agency.