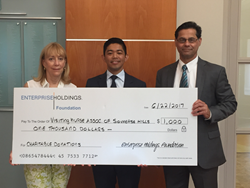 Basking Ridge, NJ (PRWEB) July 18, 2017
The Visiting Nurse Association of Somerset Hills (VNA) has received a $1,000 grant from the Enterprise Holdings Foundation to support the nonprofit home care agency's home health, hospice and palliative care, adult day services, and community wellness programs. By bringing healthcare services into homes and onsite at community locations, The VNA of Somerset Hills helps make high quality, cost-effective healthcare accessible, and eliminates obstacles that can delay timely care, slow recovery, and an increased risk of a health emergency, even when services are not reimbursed by Medicare or any insurance.
"We are enormously grateful for the generosity of the Enterprise Holdings Foundation and its support of our mission," said Marie Sperber, VP of Business Development & Philanthropy at the VNA of Somerset Hills. "Its grant makes it possible for the agency to continue promoting safe and independent living, assist with recovery from illness or injury, help people struggling to balance caregiving with other responsibilities, and preserve dignity for those coping with life-limiting illness."
The Enterprise Holdings Foundation is the philanthropic arm of Enterprise Holdings, which, through its independent regional subsidiaries, operates the Enterprise Rent-A-Car, National Car Rental and Alamo Rent A Car brands.
About VNA of Somerset Hills
The Visiting Nurse Association of Somerset Hills and its subsidiaries provide individuals and families with comprehensive, high quality, cost-effective home and community healthcare services, regardless of ability to pay, using partnerships where appropriate. The VNA is a charitable, tax-exempt home health agency and hospice certified by Medicare, accredited by the Community Health Accreditation Program and licensed by the New Jersey Department of Health and Senior Services. Credentials include recognition as a 2016 HomeCare Elite® Agency.
For more information about the organization:
Web: http://www.visitingnurse.org
Facebook: http://www.facebook.com/VNAofsomersethills
Linkedin: http://www.linkedin.com/company/vna-of-somerset-hills
Twitter: https://twitter.com/VNASomHills