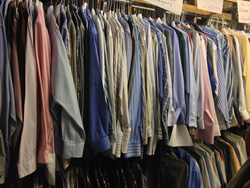 With 26 departments and two acres of merchandise, there's something for everyone.
Basking Ridge, NJ (PRWEB) April 30, 2014
Join yard sale fans and bargain hunters at the Visiting Nurse Association of Somerset Hills' (VNA) Spring Rummage Sale which will be held on Friday, Saturday and Sunday, May 2, 3 & 4 at the Far Hills Fairgrounds, located at the corner of US Route 202 and Peapack Road in Far Hills, New Jersey. The sale is open 9:30 a.m. until 3:30 p.m. on Friday and Saturday, and 12:30 p.m. to 3:30 p.m. on Sunday, rain or shine. Easily accessible by car or NJ Transit, the sale offers a fun and family friendly day trip.
With 26 departments and two acres of merchandise, there is something for everyone. The variety of high quality merchandise includes adult and children's clothing and accessories, furniture, home goods, pet supplies, artwork, toys, sporting goods, fine and costume jewelry, antiques, kitchenware, appliances, electronics, lighting fixtures, books, cameras, vintage items, musical instruments, vinyl records, fabric and sewing accessories, holiday decorations and more. Goods are meticulously sorted, checked for cleanliness and damage, and organized on racks and shelves. Clothing is hung by size, all electrical items work, and toys and games include all pieces.
Proceeds help the VNA give all families equal access to the agency's full range of home health and hospice care services, regardless of their ability to pay. Funds raised also ensure that all members of our community can benefit from important and innovative programs uncompensated by Medicare, Medicaid or private insurance. With a 100 year history, over 400 volunteers dedicated to the sale and cause, and merchandise donations collected from local residents, the VNA Rummage Sale exemplifies the spirit and meaning of a community event.
What to Know:

Rain or shine
Parking and admission are free. Handicap parking is available.
Credit cards, cash and checks (with proper identification) are accepted in all departments.
Short walking distance from the NJ Transit Far Hills Station
Food is available for purchase
VNA nurses will provide free blood pressure checks on Friday and Saturday, 10:00 a.m. to 2:00 p.m.
For directions and more information, go to http://www.visitingnurse.org/news-and-events/rummage.
About VNA of Somerset Hills
The Visiting Nurse Association of Somerset Hills and its subsidiaries provide individuals and families with comprehensive, high quality, cost-effective home and community healthcare services, regardless of ability to pay, using partnerships where appropriate. The VNA is a charitable, tax-exempt home health agency and hospice certified by Medicare, accredited by the Community Health Accreditation Program (CHAP) and licensed by the New Jersey Department of Health and Senior Services. For more information, visit http://www.visitingnurse.org.