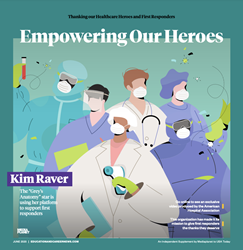 Originally inspired by Year of the Nurse and National Nurse's Week, this "Empowering our Healthcare Heroes & First Responders" campaign evolved out of a need to address the challenges facing our frontline responders during the COVID-19 pandemic.
NEW YORK (PRWEB) June 23, 2020
Originally inspired by Year of the Nurse and National Nurse's Week, this "Empowering our Healthcare Heroes & First Responders" campaign evolved out of a need to address the challenges facing our frontline responders during the COVID-19 pandemic. This campaign advocates for innovative solutions that support healthcare workers and improve patient care and safety across the country.
Mediaplanet and Vocera Communications, Inc., a recognized leader in clinical communication and workflow solutions, are partnering to showcase solutions that help care team members stay connected and safe while caring for patients inside or outside the hospital, in isolation rooms, pop-up locations, or makeshift tents. The campaign, which includes print and digital components, provides valuable insights to help improve the safety, well-being, and resiliency of nurses and other healthcare heroes. Mediaplanet worked with the American Hospital Association, American Academy of Ambulatory Care Nursing on Nursing Care Coordination, the Red Cross, and many other organizations to publish educational resources for the campaign.
The print component of "Empowering Our Healthcare Heroes & First Responders" is distributed within today's edition of USA Today in Chicago, Los Angeles, Detroit, Cincinnati, Philadelphia, Houston, Seattle, Atlanta, Boston, Florida, New York and Washington D.C./Baltimore markets, with a circulation of approximately 200,000 copies. The digital component is distributed nationally through a vast social media strategy and across a network of top news sites and partner outlets. To explore the digital version of the campaign, click here.
"Vocera is proud to help safeguard and support healthcare heroes on the frontlines who dedicate their lives to helping others," said Rhonda Collins, DNP, RN, FAAN, chief nursing officer of Vocera.
The Vocera Badge and Vocera Smartbadge can be used under personal protective equipment (PPE) for hands-free communication, minimizing risk of contamination and helping preserve valuable PPE without disrupting workflow. Using simple voice commands, such as "call infection control team" or "call respiratory therapist," care team members can connect with the right person or group, quickly and safely, saving critical time and resources.
About Vocera:
The mission of Vocera Communications, Inc. is to simplify and improve the lives of healthcare professionals and patients, while enabling hospitals to enhance quality of care and operational efficiency. In 2000, when the company was founded, we began to forever change the way care teams communicate. Today, Vocera offers the leading platform for improving clinical communication and workflow. More than 2,100 facilities worldwide, including nearly 1,700 hospitals and healthcare facilities, have selected our solutions. Care team members use our solutions to communicate and collaborate with coworkers by securely texting or calling and to be notified of important alerts and alarms. They can choose the right device for their role or task, including smartphones or our hands-free, wearable Vocera Smartbadge and Vocera Badge. Interoperability between the Vocera Platform and more than 150 clinical and operational systems helps reduce alarm fatigue; speed up staff response times; and improve patient care, safety, and experience. In addition to healthcare, Vocera is at home in luxury hotels, aged care facilities, retail stores, schools, power facilities, libraries, and more. Vocera solutions make mobile workers safer and more effective by enabling them to connect instantly with other people and access resources or information quickly. Vocera has made the list of Forbes 100 Most Trustworthy Companies in America. Learn more at http://www.vocera.com and follow @VoceraComm on Twitter.
Vocera® and the Vocera logo are trademarks of Vocera Communications, Inc. registered in the United States and other jurisdictions. All other trademarks appearing in this release are the property of their respective owners.
MEDIA CONTACT:
Shanna Hearon
Vocera Communications, Inc.
669-999-3368
shearon@vocera.com
About Mediaplanet
Mediaplanet specializes in the creation of content marketing campaigns covering a variety of industries. We tell meaningful stories that educate our audience and position our clients as solution providers. Our unique ability to pair the right leaders with the right readers, through the right platforms, has made Mediaplanet a global content marketing powerhouse. Our award-winning stories have won the hearts of countless readers while serving as a valuable platform for brands and their missions. Just call us storytellers with a purpose. Please visit http://www.mediaplanet.com for more on who we are and what we do.