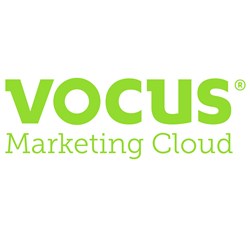 Vocus is inherently aligned with Dreamforce's focus on the customer company revolution, as our Marketing Suite is built to connect companies with their customers in strategic ways that lead to not only conversions, but to lasting relationships.
Beltsville, MD (PRWEB) November 01, 2013
Vocus, Inc. (NASDAQ: VOCS) announces today its Bronze sponsorship of salesforce.com's Dreamforce 2013 conference (http://www.dreamforce.com). The conference will be held Nov. 18-21, 2013, at the Moscone Center in San Francisco. Vocus will demonstrate its software's unique ability to help marketers attract, engage and retain customers at Moscone West Booth #W541 and Moscone North Booth #N2015 in the Cloud Expo. While at Dreamforce, Vocus Product Manager Natalia Dykyj will lead the "Integrate, Automate, Simplify" session, as well as co-host the Marketing Alliance Silver Lining Party.
On Monday, Nov. 18 at 12:30 p.m. PST, Dykyj's session will focus on the evolution of marketing and how to achieve modern marketing success. A preview of the session can be found on Vocus' blog.
Co-hosted by Vocus, the "Marketing Alliance Silver Lining Party" is a must-attend event for marketing professionals at Dreamforce '13. The party takes place on Monday, Nov. 18 from 8 p.m. to midnight at The Mezzanine. Partygoers will get to enjoy the sounds of audio and video mashup disc jockey Mike Relm while mingling with peers.
"Vocus is inherently aligned with Dreamforce's focus on the customer company revolution, as our Marketing Suite is built to connect companies with their customers in strategic ways that lead to not only conversions, but to lasting relationships," said Vocus Chief Marketing Officer Mark Gambill. "Dreamforce is at the center of the world's dynamic and fast growing tech ecosystem, and we look forward to showcasing our products there."
Dreamforce 2013 is the world's largest vendor technology conference, welcoming more than 120,000 registered attendees to experience the power of social and mobile cloud computing and connect with their customers in a whole new way. With more than 1,000 sessions and 350 cloud companies in the expo, attendees can participate in interactive sessions, hands-on training with cutting-edge technology, thousands of live demos and unparalleled networking. In addition, Dreamforce welcomes special guests Sheryl Sandberg, COO of Facebook; Marissa Mayer, President and CEO of Yahoo!; and Deepak Chopra, Founder of The Chopra Foundation.
###
About Vocus
Vocus is a leading marketing cloud provider that helps businesses reach and influence buyers across social networks, online and through media. Vocus provides an integrated suite that combines social marketing, search marketing, email marketing and publicity into a comprehensive solution to help businesses attract, engage and retain customers. Vocus software is used by more than 120,000 organizations worldwide and is available in seven languages. Vocus is based in Beltsville, MD with offices in North America, Europe and Asia. For further information, please visit http://www.vocus.com or call (800) 345-5572.
Forward-Looking Statement
This release contains "forward-looking" statements that are made pursuant to the Safe Harbor provision of the Private Securities Litigation Reform Act of 1995. These statements are predictive in nature, that depend upon or refer to future events or conditions or that include words such as "may," "will," "expects," "projects," "anticipates," "estimates," "believes," "intends," "plans," "should," "seeks," and similar expressions. This press release contains forward-looking statements relating to, among other things, Vocus' expectations and assumptions concerning future financial performance. Forward-looking statements involve known and unknown risks and uncertainties that may cause actual future results to differ materially from those projected or contemplated in the forward-looking statements. Forward-looking statements may be significantly impacted by certain risks and uncertainties described in Vocus' filings with the Securities and Exchange Commission.
The risks and uncertainties referred to above include, but are not limited to, risks associated with possible fluctuations in our operating results and rate of growth, our history of operating losses, risks associated with acquisitions, including our ability to successfully integrate acquired businesses, risks associated with our foreign operations, interruptions or delays in our service or our web hosting, our business model, breach of our security measures, the emerging market in which we operate, our relatively limited operating history, our ability to hire, retain, and motivate our employees and manage our growth, competition, our ability to continue to release and gain customer acceptance of new and improved versions of our service, successful customer deployment and utilization of our services, fluctuations in the number of shares outstanding, foreign currency exchange rates and interest rate.