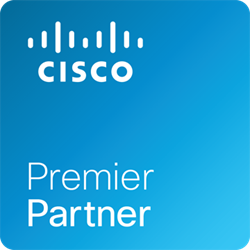 PLYMOUTH, MA (PRWEB) May 12, 2015
VoDaVi Technologies, LLC, a Women owned Business Enterprise (WBE) and leading provider of Voice, Data & Video Technology Solutions has achieved Premier Certification from Cisco®. To earn Premier Certification VoDaVi Technologies had to meet stringent standards for networking competency, services, support and customer satisfaction set forth by Cisco. VoDaVi is only the 15th company in the United States and the only company in Massachusetts that holds the WBE diversity status within Cisco as a Premier Partner.
Chief Operating Officer, Chris Friel "We are delighted with this accomplishment and realize the efforts everyone on our team has had to put forth in order to achieve this. As a Cisco Premier Partner, VoDaVi will be able to further enhance our solutions for our clients. To be one of fifteen WBE Cisco Premier Partners in the US and the only WBE Premier Partner in Massachusetts is an amazing accomplishment that we are very proud of."
As a Premier Certified partner VoDaVi Technologies consistently has demonstrated a wide array of technical expertise, professional services and support. To achieve Premier Certification VoDaVi Technologies was required to earn the coveted Cisco Express Collaboration Specialization. This specialization brings together key solutions for Cisco routing, switching, security and wireless products to name a few. In addition, VoDaVi Technologies accomplished Cisco's Video Express Specialization which is focused on providing a new way of working, in which everyone, everywhere can be more productive through face-to-face collaboration with TelePresence Video solutions.
About VoDaVi Technologies
VoDaVi Technologies is a leading provider of Voice, Data & Video Professional Services and Managed Services, including Help Desk Support. With more than twenty years of experience, VoDaVi Technologies' engineers have a proven track record of delivering best in class IT solutions throughout New England. VoDaVi is a certified partner with top technology providers Cisco, HP, Dell, Lenovo, Fortinet and Microsoft, giving us the ability to offer established, quality products and services to our clients. For more information, please visit http://www.VoDaViTechnologies.com.
About Cisco Resale Channel Program *
The Cisco Resale Channel Program provides partners with the training required to build sales, technical and Cisco Life-cycle Services skills. Cisco resale partner certifications represent an increasing breadth of skills across key technologies and a partner's ability to deliver integrated networking solutions.