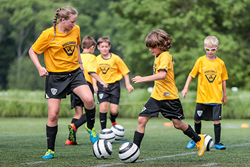 Vogelsinger Academy is a true legacy program that really impacts players in a positive and lasting way.
San Rafael, CA (PRWEB) December 27, 2016
The Vogelsinger Soccer Academy carries a legacy of excellence in soccer education and philosophy. Founded by Master Coach Hubert Vogelsinger in 1965, these camps offer youth players dynamic teaching by demonstration and participation, with the ultimate goal of creating for each player a method to self-teach. Children leave camp with an internal motivation to reach their goals.
Summer 2017 offers Vogelsinger Soccer Academy in four locations:

UC Santa Barbara, Santa Barbara, California
Carthage College, Kenosha, Wisconsin
The Lawrenceville School, Lawrenceville, New Jersey
The Brooks School, North Andover, Massachusetts
Players may attend for one, two, or three week sessions. There are week long day camps for ages 7-14 at the Brooks School. All other locations require a minimum age of 9 and welcome anyone up to the age of 18 to attend. The All-Star sessions provide one week of individual skills and techniques training. Mini-Academies run for two weeks and incorporate tactical skills and techniques into training in addition to individual skills enhancement. The three week Academy is spent progressing from individual skills training to technique, positional progression, and tactical concepts.
The international, highly-skilled Vogelsinger coaching staff is unmatched. Many coaches have experience playing and coaching professionally in locations all over world, bringing a well-rounded and diverse atmosphere to the camp. All sessions are extremely intensive and are built to bring out the best in serious soccer players. Each day begins with Hubert Vogelsinger-created Soccerobics, designed to help players develop a natural rhythm and exceptional footwork. Throughout the day, campers practice in groups determined by age and skill level. Each evening they are challenged to use their newly learned skills small-sided and full-sided games.
At each location, overnight campers experience a real sleep-away camp experience. Housed on-campus, children have the unique opportunity to experience life as an on campus student, making new friendship and lasting memories. "Vogelsinger Academy is a true legacy program that really impacts players in a positive and lasting way," states Jan O'Connor, Executive Vice President at US Sports Camps. "It's inspiring to see parents who attended these camps as children, now sending their own children to take part in the Vogelsinger experience. It really speaks to the quality of this program."
Registration for all summer 2017 locations is open now. Campers and parents can visit ww.ussportscamps.com or call 1-800-645-3226 for more information.
About US Sports Camps, Inc.
US Sports Camps (USSC), headquartered in San Rafael, California, is America's largest sports camp network and the licensed operator of Nike Sports Camps. Over 85,000 kids attended a US Sports Camp program in 2016. The company has offered summer camps since 1975 with the same mission that defines it today: to shape a lifelong enjoyment of athletics through high quality sports education and skill enhancement.