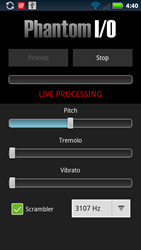 (PRWEB) March 17, 2014
Phantom Data Services, LLC is pleased to announce a record sales month for the Phantom I/O voice changer app. Sales revenue for the past month of February has improved by 150% over previous months.
Phantom I/O is a real-time inline processing app developed for Android platforms. The app samples and processes audio in real-time, adding pitch, modulation, and scrambling effects. The app sends the processed audio through the audio output jack, allowing the user to feed the audio to other equipment.
Phantom I/O provides a unique ability to adjust and tweak the audio effects in real-time as audio is fed to the Android device. This provides musicians, audio engineers, and other audiophiles the ability to easily experiment and fine-tune the app for their desired sound.
The inline processing capability also provides an opportunity to interface with other audio processing hardware or recording equipment. Other common voice changer apps simply provide offline recording, which does not operate in real-time and does not support live adjustments.
A trial version of Phantom I/O is available at no cost from the Google Play Store. The full unlimited version is also available for download for $4.99. Visit the Google Play Store or http://www.phantom-io.com for more information.
Phantom I/O is offered by Phantom Data Services, LLC, an innovative web and mobile software development company in Albuquerque, New Mexico.