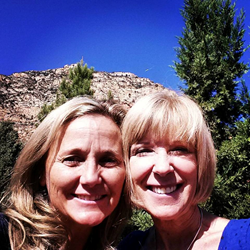 It was beyond beautiful my time spent with Anahata in Sedona! Paula Vail
Sedona, AZ (PRWEB) December 17, 2015
Paula Vail is a Master Usui & Karuna Reiki practitioner and teacher as well as a leading voice for alternative solutions to spiritual health and overall wellness. Her weekly internet radio show, For the Love of Reiki, is one of the most popular programs on VoiceAmerica's health and wellness channel. On December 16, 2015 at 11a.m. PST, VoiceAmerica will air an exclusive interview, Empowerment and Awakening, with Paula Vail and Anahata Ananda. Anahata Ananda is a Spiritual Guide and Shamanic Healer who runs the Shamangelic Healing Center in Sedona, AZ. In the hour-long interview, these two gifted women have an inspired conversation and provide their insights on the best tools and practices for personal empowerment and spiritual awakening.
This is a time of quantum change, and the fast pace of modern life, finding balance, meaningful living, healthy relationships and vibrant health can be quite elusive to people. In this interview Paula Vail asks thoughtful, meaningful questions to Anahata who is able to shine a light on why there is such pressure to shift old densities, dissolve limiting beliefs, heal deep wounds and evolve unconscious patterns. She reveals that a new paradigm of conscious thriving is birthing, while the old paradigm is crumbling. Through her healing practice in Sedona, she has seen, first hand, peoples' desire to reconnect to inner wisdom, find their soul's path and reclaim inner peace.
The interview highlights the tools Ananda has created to guide people to live an authentic, abundant, and purposeful life. These tools are a culmination of her comprehensive healing work which has resulted in her Ten Essential Courses for Empowerment and Awakening. Listeners will learn about many of the components of the Essential Courses. The courses are taught as small-group retreats a few times a year by Anahata Ananda in Sedona and are also available as self-paced online courses. This interview will be an inspiration to listeners from all walks of life that are searching for guidance and an uplifting message for the holidays and New Year.
Anahata Ananda's Shamangelic Healing Center is based in Sedona, Arizona. It is nestled beneath Sedona's famous Thunder Mountain, with 360 degrees of breathtaking views, walking distance from an ancient medicine wheel and healing vortexes, making this the perfect setting for healing and expansion. Clients seeking Spiritual awakening, transformational healing services, conscious relationship counseling, sacred land journeys or training courses may choose from a wide range of options that will create a tailored personal experience.
For detailed descriptions and a calendar of the upcoming retreats, workshops, courses, and transformational healing and spiritual awakening services offered by Anahata Ananda, visit http://www.ShamangelicHealing.com