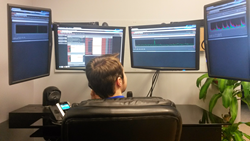 From Voice Over Internet Protocol to Fill in the Blank Over Internet Protocol, a reliable Internet connection is more important then ever before
Orlando, FL (PRWEB) October 22, 2014
Orlando has yet to see widely deployed and easily affordable fiber optic connections, however, that is changing quickly. Small and medium businesses rely heavily on cloud based services for just about everything from banking, accounting, voice, video, marketing, communications, collaboration, and the list goes on. With so many services now online the need for affordable fiber optics is in demand and in some cases required to run a business. "Fiber optic connections are the most reliable medium to connect a business premises to the world," says Stephen Wall, quality assurance manager for VoiceOnyx.
"From Voice Over Internet Protocol to Fill in the Blank Over Internet Protocol, a reliable Internet connection is more important then ever before," added Wall. VoiceOnyx is a VOIP business phone service provider and for many years has offered a dedicated line service just for customers who have had issues or concerns from a bad quality Internet connection. In the NOC or network operations center, VoiceOnyx technicians monitor their customer's Internet connections and depending on the results of several metrics will offer a fiber optic or more reliable connection as a replacement.
With AT&T's GigaPower, Verizon's Speed Match FioS, CenturyLink's new Fiber Plus, and VoiceOnyx's new fiber optic options, business owners throughout Florida will soon have access to a reliable Internet connection. "Finally in 2014, we are starting to be able to offer Fiber optic business Internet for as low as $50/month," says Edward, sales engineer for VoiceOnyx.
VoiceOnyx is a licensed and insured telecommunications company and provides services throughout the State of Florida. VoiceOnyx was established in 2006 and is headquartered in Orlando, FL.