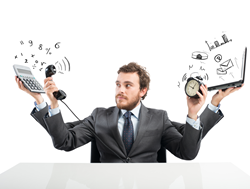 We provide a B2B service and wasting a small business owners precious time is simply not acceptable
Orlando, Florida (PRWEB) September 26, 2014
Several companies dedicated to keeping track of hold times and helping consumers get connected faster are gaining traction. TalkTo.com is trailblazing an approach that allows consumers to ask questions through mobile apps and to get answers without having to pick up the phone, therefore reducing hold times. Unfortunately there comes a time when a business owner wants and sometimes needs answers on demand and does not have time to waste on hold.
If it is absolutely necessary to pick up the phone to get an answer, another consumer advocate, GetHuman.com provides the best number to call and provides the expected average hold time reported by actual recent callers.
"Surprisingly, consumers still do not make buying decisions based on the expected future hold times for customer service and support" says Edward Warren. The weight of good customer service on a potential purchase may be changing as new tools make it easier for consumers to find what they are looking for along with the expected quality of support.
Internet and phone companies maintain the worst level of customer service according to the public voting website Ranker.com . In fact, 3 out of the top 5 companies ranked with the worst customer service in America provide telecommunication services. Reports of hold times in excess of 45 minutes are common in the online reviews by consumers.
There are some telecommunications companies that are invested in low hold times, however, the adoption is slow over all. "VoiceOnyx embraced providing the best possible customer service since establishment in 2006" says Edward Warren. "We provide a B2B service and wasting a small businesses owners precious time is simply not acceptable" Warren adds.
VoiceOnyx is a licensed and insured telecommunications company and provides services throughout the State of Florida. VoiceOnyx was established in 2006 and is headquartered in Orlando, FL.