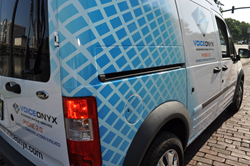 ...complimentary consulting services to Florida businesses looking to solve their Internet issues...
Oralando, FL (PRWEB) September 18, 2014
Since establishment in 2006, VoiceOnyx has monitored, in real-time, all of its customers Internet connections, offered proactive notifications and disaster recovery solutions. "We have a real time pulse of our customers connections similar to how a nurses station at a hospital has a centralized view of the vital signs for their patients" says Stephen Wall, in-house Internet quality assurance specialist. Most businesses don't understand that there are many more metrics to a business Internet connection's health then a speed test that reports a connections download and upload or bandwidth.
"We monitor metrics such as packet loss, latency, and jitter, which in some cases is more important than bandwidth" says Edward in the network operations center of VoiceOnyx. The service has been very effective for VoiceOnyx customers who can rely on a vast knowledge base and performance data collected over years on thousands of connections across Florida.
VoiceOnyx is now extending a program called "Florida Internet Options" for non VoiceOnyx customers in the State of Florida. The program is designed to offer complimentary consulting services to Florida businesses looking to solve their Internet issues, including what other options are available in the area. In addition to consulting, VoiceOnyx will provide historical and real time monitoring and assist in educating a business on how to identify and understand any performance issues.
Currently, businesses without any monitoring services, rely on their providers diagnostic tools. "It is common to find the large ISP technical support agents use first call resolution techniques that result in denying any issues on their end" says Edward . VoiceOnyx hopes that providing this service will empower and educate the average business customer while also introducing VoiceOnyx's highly reliable business phone systems and services.
VoiceOnyx is a licensed and insured telecommunications company and provides services throughout the State of Florida. VoiceOnyx was established in 2006 and is headquartered in Orlando, FL.