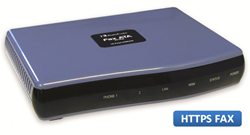 Portland, OR (PRWEB) January 28, 2015
Vitelity is featured in a new AudioCodes case study released today describing how the AudioCodes Fax ATA added security and simplified their fax deployment scenario while keeping reliability fully intact. AudioCodes will be showcasing the AudioCodes Fax ATA and Fax Connector technology at ITEXPO East in Miami Beach on January 28-30, 2015 in the FaxBack booth #511.
Vitelity offers reliable, high-quality VoIP interworking and IP alternatives, including fax services, that are required by businesses and end-users. Originally, Vitelity offered an analog ATA connected to a SIP Trunk as their fax machine connectivity solution. Reliability and security issues with T.38 over the open Internet became apparent with use of the standard SIP T.38 based ATA. Vitelity needed to find a better solution for their customers due to increased demand for full VoIP environments. In addition, they needed to allow their customers to keep their fax machines despite low or nonexistent analog phone line availability and high costs.
The AudioCodes Fax ATA is designed for service providers, enterprise and businesses seeking solutions for connecting Fax Machines and multifunction printers (MFPs) to fax services, such as Vitelity, or premise-based fax servers using HTTPS. Information on the AudioCodes Fax ATA, fax technology and solutions including HTTPS based Fax ATAs, Fax Connector Software and media gateways supporting both HTTPS and SIP connectivity can be found on the AudioCodes Fax ATA site. Commercial or government enterprises and customers who visit the Fax ATA site can find valuable resources such as white papers, best practices, product guides, testimonials, feature articles and industry news related to HTTPS based faxing with a Fax Machine or MFP.
See the full Vitelity case study, "Vitelity Improves VoIP Fax Offering, Adds Security and Reliability by Implementing the AudioCodes HTTPS Based Fax ATAs for Fax Machines and MFPs", listed on the Fax ATA site or on AudioCodes' site.
AudioCodes HTTPS Fax ATAs are used by VoIP providers where the device is used to replace a connection to a traditional telephone line. The AudioCodes HTTPS Fax ATA, along with the Fax Connector software, allows fax machines and multifunction printers (MFPs) to easily connect to service providers -- all done reliably and securely over the Internet including satellite, cellular data and Wi-Fi connections.
About Vitelity
The goal and passion that drives every member of the Vitelity team is to make meaningful change in the telecommunications world, empowering communication for our customers and the customers of our extensive reseller network. Vitelity brings an unmatched depth in communications expertise offering innovative products and services including VoIP, fax, and hosting with its own 50Gbit private dark fiber network and interconnections in major cities throughout the United States, including Denver, New York City, Los Angeles, and Miami. To learn more about how Vitelity is empowering communication, visit http://www.vitelity.com or call 888-898-4835.
About FaxBack
FaxBack provides reliable, secure, and scalable Fax Solutions for Service Providers, Multi-Site Enterprises, and Small Businesses. In addition to premise-based fax servers, we offer fax solutions for any VoIP environment. Connecting Fax Machines to the Cloud through our HTTPS Fax ATA. Robust, high density Fax Trunking with full virtualization including Web-to-Fax portals are also available with our popular NET SatisFAXtion solutions. FaxBack and AudioCodes have developed an HTTPS enabled Fax ATA and the Fax Connector technology was created for a secure and reliable fax transmissions for Fax Machines.