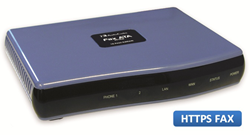 Portland, OR (PRWEB) February 26, 2014
FaxBack, a fax server and VoIP fax technology company that helps clients build and deploy reliable cloud fax services and turnkey business fax solutions, announced today that they will be exhibiting at the upcoming Enterprise Connect show March 17-20, 2014 in Gaylord Palms Orlando, FL. FaxBack will feature the AudioCodes HTTPS Fax ATA - a fax device that allows service providers and enterprises alike to connect fax machines over-the- internet, via reliable HTTPS connections.
FaxBack, in conjunction with their partner AudioCodes, will be exhibiting HTTPS based fax technology, such as the HTTPS Fax ATA, at Enterprise Connect. Many enterprises and VoIP providers, such as Vitelity, NxGEN and Cobham SATCOM, deploy the AudioCodes HTTPS Fax ATA to replace connections to traditional telephone lines. The Fax ATA along with the Fax Connector software allows fax machines and multifunction printers (MFPs) to easily integrate with enterprise fax servers or connect directly over the Internet to VoIP Providers and Internet Fax Services reliably and securely including the use of Satellite, Cellular data and Wi-Fi connections.
Information about the AudioCodes HTTPS Fax ATA, as well as fax technology and solutions, including the Fax Connector Software, and media gateways supporting both HTTPS and SIP connectivity can be found on the Fax ATA website. Additionally, case studies, such as Education Networks of America (ENA) and information on the Fax ATA which focuses on connectivity, reliability and security challenges in the VoIP and Fax industry. Commercial or government enterprises and businesses who visit the Fax ATA site can find valuable resources such as whitepapers, best practices, product guides, testimonials, feature articles and industry news related to HTTPS based faxing with a Fax Machine or MFP.
See the full ENA Case Study, "ENA Improves Schools' Faxing Reliability by moving ATA Fax Negotiations into Datacenter", listed on the Fax ATA site or on AudioCodes' web site.
About FaxBack
FaxBack provides reliable, secure, and scalable Fax Solutions for Service Providers, Multi-Site Enterprises, and Small Businesses. In addition to premise-based fax servers, we offer fax solutions for any VoIP environment. Connecting Fax Machines to the Cloud through our HTTPS Fax ATA. Robust, high density Fax Trunking with full virtualization including Web-to-Fax portals are also available with our popular NET SatisFAXtion solutions. FaxBack and AudioCodes have developed an HTTPS enabled Fax ATA and the Fax Connector technology was created for a secure and reliable fax transmissions for Fax Machines.
For more information about connecting fax machines to the cloud using the AudioCodes Fax ATA and fax connector, visit http://www.faxata.com.
For more information about FaxBack and their VoIP Fax Solutions, visit http://www.faxback.com.
About Enterprise Connect®
Enterprise Connect® is the leading conference and exhibition in North America for enterprise communications and collaboration systems, software and services. Enterprise Connect® brings corporate IT decision makers together with the industry's suppliers, analysts and consultants to focus on the issues central to enterprise communications and collaboration networks. Enterprise Connect® owns and produces No Jitter, http://www.nojitter.com, providing daily blogging and analysis of enterprise communications, and it also serves the community with a weekly email newsletter, a Webinar Series and Virtual Events. For more information, visit enterpriseconnect.com.