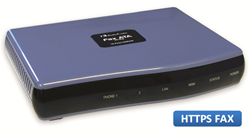 Portland, OR (PRWEB) January 31, 2014
FaxBack (faxback.com), a fax server and fax technology company helping clients build and deploy reliable cloud fax services and turnkey business fax solutions, announced today that they have surpassed 10,000 AudioCodes HTTPS enabled Fax ATA units sold and deployed. Utilized by service providers and enterprise customers, the Fax ATA allows truly reliable connections via HTTPS for the Fax Machine with over-the-Internet connections to service providers. FaxBack will be showcasing the AudioCodes Fax ATA and Fax Connector technology at ITEXPO East in Miami Beach on January 28-31, 2014 at booth #521.
Service providers in 2013 showed strong demand by looking to complement existing fax services and improve reliability from Fax Machine connections over basic SIP based ATAs for their business clients. As fax continues to remain a core and strong form of business communications, service providers are showing increased adoption of VoIP based fax services and new connection methods for the easiest scan-to-send device - the Fax Machine. Improved connection reliability has helped minimize provider's support on fax aspects and allow focus on core business.
The AudioCodes Fax ATA is designed for VoIP and Fax Service Providers and businesses alike seeking solutions for connecting Fax Machines and multifunction printers (MFPs) to their service offerings or premise-based fax servers using HTTPS. Information for the AudioCodes Fax ATA, fax technology and solutions including HTTPS based Fax ATAs, Fax Connector Software and media gateways supporting both HTTPS and SIP connectivity can be found on the AudioCodes Fax ATA site. Additionally, case studies, such as Education Networks of America (ENA) and information on the Fax ATA focuses on connectivity, reliability and security challenges in the VoIP and Fax industry. Commercial or government enterprises and customers who visit the Fax ATA site can find valuable resources such as whitepapers, best practices, product guides, testimonials, feature articles and industry news related to HTTPS based faxing with a Fax Machine or MFP.
"We congratulate FaxBack on surpassing 10,000 units and are happy to see the numerous success stories, such as from ENA," states Alan Percy, Sr. Director of Strategic Marketing NA at AudioCodes. "FaxBack is an expert in delivering reliable fax technology and we're thrilled to continue our relationship, evolving Fax ATA products and delivering providers a HTTPS based fax connection solution that improves reliability and security."
Education Networks of America (ENA) offers schools and libraries, district and statewide managed connectivity and communication among other services including fax machine connections. Early on in their fax deployments, ENA began to see some reliability issues with standard VoIP based ATAs. These issues were extremely difficult to troubleshoot, and consumed many engineering and support resource hours, without clear conclusions. One aspect that was clear was that they needed to move control of the fax negotiation from the ATA into ENA's datacenter where they could fully control it.
The AudioCodes HTTPS Fax ATA system came to the rescue for ENA. Simon Weller, Director of Systems Architecture with ENA, comments, "We rolled out the AudioCodes HTTPS Fax ATA and Fax Connector solution and integrated it into our core. That allowed us to utilize our existing voice infrastructure while providing a parallel platform towards our customers. As with all of our products and services, we try to make it as easy for our customers as possible, and part of that service is we manage the hardware and provide all the inter-connections. Centralizing as much as possible keeps our support costs down and quality up."
See the full ENA Case Study, "ENA Improves Schools' Faxing Reliability by moving ATA Fax Negotiations into Datacenter," listed on the Fax ATA site or on AudioCodes' web site.
AudioCodes HTTPS Fax ATAs are used by many VoIP providers, such as Vitelity, NxGEN and Cobham SATCOM, where the device is used to replace a user's connection to a traditional telephone line. The AudioCodes HTTPS Fax ATA along with the Fax Connector software allows fax machines and multifunction printers (MFPs) to easily integrate with enterprise fax servers or connect directly over the Internet to VoIP Providers and Internet Fax services - all done reliably and securely over the Internet including using satellite, cellular data and Wi-Fi connections.
About FaxBack
FaxBack provides reliable, secure, and scalable Fax Solutions for Service Providers, Multi-Site Enterprises, and Small Businesses. In addition to premise-based fax servers, we offer fax solutions for any VoIP environment. Connect your Fax Machine to the Cloud through our HTTPS Fax ATA. Robust, high density Fax Trunking with full virtualization, including Web-to-Fax portals, are also available with our popular NET SatisFAXtion solutions. FaxBack and AudioCodes have developed an HTTPS enabled Fax ATA and the Fax Connector technology was created for a secure and reliable fax transmissions for Fax Machines.
For more information about connecting Fax Machines to the cloud using the AudioCodes Fax ATA and Fax Connector, visit faxata.com.
For more information about FaxBack and their VoIP Fax Solutions, visit faxback.com.