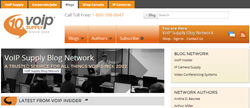 "With the blog redesign we wanted to make our customers lives a little easier by making it simple for them to locate what they need to make product decisions and get back to business." - Garrett Smith, VoIP Supply CMO
Buffalo, NY (PRWEB) July 25, 2013
Since 2006, The VoIP Insider, VoIP Supply's flagship blog, has been discussing the issues, events, and trends shaping the VoIP industry.
It is now making a transition as a part of the new VoIP Supply Blog Network, a platform segmented for several different technology interests:

The VoIP Insider: For everything a reader needs to know about VoIP
IP Camera Supply: A source for IP surveillance news, reviews, and how-to's
Video Conferencing Systems: For businesses relying on video for global operations
All of the sites in the VoIP Supply Blog Network have been redesigned from the old blog format to match the look, layout, and navigation of VoIPSupply.com so that customers can seamlessly access the information that they need.
The site navigation has been simplified with header tabs to easily jump to a different pages. The search bar includes a drop-down that allows users to quickly search for information in three places; the blog they're currently reading, the entire blog network, or search directly for products on VoIPSupply.com.
"VoIP Supply is committed to delivering the best experience for customers," said Garrett Smith, Chief Marketing Officer at VoIP Supply. "With the blog redesign we wanted to make our customers lives a little easier by making it simple for them to locate what they need to make product decisions and get back to business."
VoIP Supply also offers educational buyers guides on a range of VoIP technology including IP paging, VoIP phones, VoIP service, IP PBXs, gateways, adapters, and video conferencing.
VoIP Supply's VoIP Experts are available every weekday from 9 am to 6 pm at 800-398-8647.
About VoIP Supply
We are a place of uncovering, cultivating and developing leaders. A world class place to work with big goals, a clear vision, defined purpose and a dedicated team of passionate business professionals. We love what we do and do it better than any of our competition.
Since 2002, VoIP Supply has been the leading supplier of VoIP equipment and complete VoIP solutions in North America. We are known in the industry as responsive and knowledgeable VoIP product experts.
With everything you need for VoIP, VoIP Supply has grown rapidly throughout the years. VoIP Supply is a three-time Inc. 500/5000 honoree, listed by Business First as one of WNY's Most Admired Companies, as well as one of Western New York's Best Places to Work for many consecutive years, including 2012. VoIP Supply is also the first Certified B Corporation in Western New York.