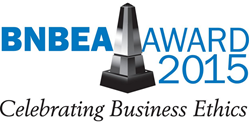 "Doing the right thing isn't always easy and ethical practices often go unnoticed." - Ben Sayers, VoIP Supply CEO
Buffalo, NY (PRWEB) April 17, 2015
VoIP Supply, North America's leading VoIP solutions provider, is proud to announce that is been named a finalist for the 2015 Buffalo Niagara Business Ethics Award (BNBEA).
This is the first time that VoIP Supply has been named a finalist in the small business category for companies with fewer than 50 employees.
The 9th annual BNBEA event, to held on May 14, 2015 at Salvatore's Italian Gardens, presents the Crystal Award to the winner in each category and recognizes companies who act ethically every day by treating their employees, business partners, and local community with honesty and fairness.
"We're proud to salute the finalists' commitment to the highest of ethical business standards throughout their organizations and the community," said Fred Holender, President of the Buffalo Niagara Business Ethics Association and Chairman of the BNBEA Awards Steering Committee.
VoIP Supply is not a business that was created exclusively to generate profit. VoIP Supply became Western New York's first Certified B Corporation (B Corp) because it has a different mission.
B Corps meet higher standards of social and environmental performance and are required to consider the company's impact on employees, vendors, and its local community.
The overall belief within VoIP Supply is that the company must do well so that it can do good for others.
"VoIP Supply is honored to be named a 2015 Buffalo Niagara Business Ethics Award finalist for the first time," said Ben Sayers, CEO of VoIP Supply. "Doing the right thing isn't always easy and ethical practices often go unnoticed."
"VoIP Supply routinely volunteers to help our neighbors and local charities. We're in a good position to help others and it's an opportunity that we're not only grateful for, but it's an opportunity that stems from a dedication to providing customers with value; we put their needs and interests above our own," said Sayers.
Sayers also added that, "VoIP Supply thanks it's passionate employees for living and breathing our core values every day. They have enabled us to give back to Western New York and have allowed us to be recognized by the Buffalo Niagara Business Ethics Committee."
For more information about VoIP Supply call 800-398-VoIP or, visit http://www.voipsupply.com.
About VoIP Supply
We solve problems and create solutions with VoIP. VoIP Supply is a world class place to work with big goals, a clear vision, defined purpose and a dedicated team of passionate business professionals. We love what we do and do it better than any of our competition.
Since 2002, VoIP Supply has been the leading supplier of VoIP equipment and complete VoIP solutions in North America. We are known in the industry as responsive and knowledgeable VoIP product experts.
With everything you need for VoIP, VoIP Supply has grown rapidly throughout the years. VoIP Supply is a three-time Inc. 500/5000 honoree, listed by Business First as one of WNY's Most Admired Companies, as well as one of Western New York's Best Places to Work for many consecutive years.. VoIP Supply is also the first Certified B Corporation in Western New York.