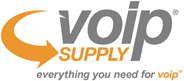 'We're proving that we can do good and be profitable,' said Ben Sayers, VoIP Supply CEO. 'We're looking for people that not only want to improve their careers, but the lives of others at the same time.'
Buffalo, NY (PRWEB) February 27, 2015
VoIP Supply, North America's leading VoIP solutions provider, is announcing today that with the growing demand for VoIP products and its CloudSpan Hosted PBX and SIP Trunking VoIP services, the company is expanding and has new career opportunities in Buffalo, NY.
VoIP Supply is consistently ranked as one of the "Best Places to Work in Western New York" and is Buffalo's first Certified B Corporation, committed to sustainability, putting people ahead of profits, and volunteering to help the local community.
Every month, VoIP Supply selects a different charity to assist and employees volunteer, on company time, to help their neighbors.
"We're proving that we can do good and be profitable," said Ben Sayers, VoIP Supply CEO. "We're looking for people that not only want to improve their careers, but the lives of others at the same time."
Since 2002, VoIP Supply has been delivering everything that customers need for VoIP and has differentiated itself from other online retailers by being more than just a website. VoIP Supply has a knowledgeable support team that customers rely on for free and paid support.
Businesses often call VoIP Supply for help implementing new mobility and Unified Communication (UC) technology that helps them stay competitive.
For more information about VoIP Supply and career opportunities, please call 800-398-8647, or visit http://www.voipsupply.com/corporate/careers/.
About VoIP Supply
We solve problems and create solutions with VoIP. VoIP Supply is a world class place to work with big goals, a clear vision, defined purpose and a dedicated team of passionate business professionals. We love what we do and do it better than any of our competition.
Since 2002, VoIP Supply has been the leading supplier of VoIP equipment and complete VoIP solutions in North America. We are known in the industry as responsive and knowledgeable VoIP product experts.
With everything you need for VoIP, VoIP Supply has grown rapidly throughout the years. VoIP Supply is a three-time Inc. 500/5000 honoree, listed by Business First as one of WNY's Most Admired Companies, as well as one of Western New York's Best Places to Work for many consecutive years, including 2013. VoIP Supply is also the first Certified B Corporation in Western New York.