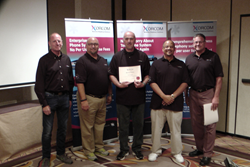 "Xorcom CompletePBX systems are based on the Asterisk® platform so they're flexible, affordable, easy to use, great for businesses or schools of any size." -Tom Costelloe, VoIP Supply Online Marketing Manager
Buffalo, NY (PRWEB) August 22, 2014
VoIP Supply, North America's leading provider of VoIP solutions, is now a Xorcom Certified Dealer for Complete PBX Solutions.
Xorcom, founded in 2004, focuses on business telephony solutions for both VoIP and traditional PSTN. Xorcom products are based on Asterisk®, the open-source communication software used worldwide, for a flexible range of PBX solutions.
Michael Taylor, VoIP Engineer at VoIP Supply, took Xorcom's detailed technical training class over the course of three days to learn installation, programming, and troubleshooting aspects of Xorcom PBX products.
Taylor's real-world application knowledge and hands-on training in the Xorcom lab allows VoIP Supply to now provide these unique benefits to Xorcom customers:

Determine customer communication needs and offer the right Xorcom solution based on line usage, infrastructure, and employee habits.
Faster, streamlined phone system implementation process
Ensure optimal phone up-time by securing the phone system.
Provide communication efficiency suggestions to improve the user experience.
Provide the best first level technical support.
The Xorcom CompletePBX systems have a variety of uses including single office/home office (SOHO), small and medium-sized business (SMB), and enterprise level applications.
CompletePBX are pre-configured telephony systems that are ready to use right out-of-the-box and offer users flexibility based on call management, Unified Communications (UC), and strong standard features.
"Xorcom CompletePBX systems are based on the Asterisk® platform so they're flexible, affordable, easy to use, great for businesses or schools of any size and customers don't have to worry about per user license fees," said Tom Costelloe, VoIP Supply Online Marketing Manager.
For more information about Xorcom CompletePBX Solutions, please call 800-398-8647 or visit http://www.voipsupply.com/manufacturer/xorcom.
About VoIP Supply
We are a place of uncovering, cultivating and developing leaders. A world class place to work with big goals, a clear vision, defined purpose and a dedicated team of passionate business professionals. We love what we do and do it better than any of our competition.
Since 2002, VoIP Supply has been the leading supplier of VoIP equipment and complete VoIP solutions in North America. We are known in the industry as responsive and knowledgeable VoIP product experts.
With everything you need for VoIP, VoIP Supply has grown rapidly throughout the years. VoIP Supply is a three-time Inc. 500/5000 honoree, listed by Business First as one of WNY's Most Admired Companies, as well as one of Western New York's Best Places to Work for many consecutive years, including 2012. VoIP Supply is also the first Certified B Corporation in Western New York.