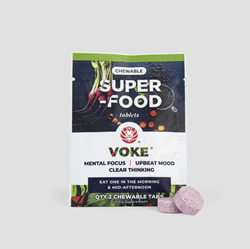 PORTLAND, Ore. (PRWEB) December 03, 2019
The business travel gurus have spoken. For those who spend more time on the plane than in the office, maintaining energy and focus is a high priority. Delivering these results in a plant-based tablet chewable, Voke was named a 2019 USA TODAY winner in the 10Best Readers' Choice Travel Award Contest for Best Gift for Business Travelers.
Voke placed second in the top 10! The brand was nominated by a panel of experts consisting of USA Today and 10Best.com editors, expert contributors and sources for both media and other Gannett properties.
With ingredients backed by over 25 independent research studies, Voke provides brain support using superfoods guarana, acerola cherry, beetroot and green tea caffeine. The vegan tablets are made in the USA and contain no gluten or sugar. Once popular primarily with adventure-seekers, Voke is becoming mainstream among working professionals, including those who travel for a living.
About Voke: Voke was a simple idea dreamed up by competitive skier Kalen Caughey as he was looking for a healthy, convenient and ultra-portable energy solution to fuel long days in the mountains and at school. Teaming up with his father who holds a Ph.D. in biochemistry, the two researched and formulated a blend of natural ingredients proven to improve memory, focus, metabolism and physical stamina. Caughey also brought in his brother, Evan, to help with creative development and operations. Today, the brothers continue to run Voke together as a family business.
About USA Today: USA TODAY is a multi-platform news and information media company. Founded in 1982, the company's mission is to serve as a forum for better understanding and unity to help make the U.S. truly one nation. Through its unique visual storytelling, USA TODAY delivers high-quality and engaging content across print, digital, social and video platforms.
About 10Best.com: 10Best.com provides users with original, unbiased and experiential travel content of top attractions, things to see and do and restaurants for top destinations in the U.S. and around the world. The core of the site's uniqueness is its team of local travel experts: a well-traveled and well-educated group who are not only experts in their fields—and their cities—but discriminating in their tastes.