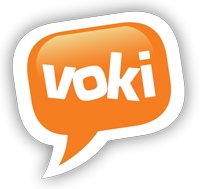 We want to get people as excited as we are about our new Voki product.
New York, NY (PRWEB) August 22, 2013
In anticipation of its new product release, Voki, the foremost solution for using animated characters for education, is hosting a contest for educators around the world. The contest, dubbed "Guess the Name", allows fans to guess the name of the next Voki product and enter to win an iPad & other prizes.
As the contest unfolds, the Voki team will periodically release clues and hints on Facebook, Twitter, and Google+ describing the new product. (Hint: locate the posts with #VokiNextBestThing). Users may submit multiple entries throughout the contest period to increase their chances of winning.
One (1) grand prize winner will be randomly selected from all correct answers to win an iPad and a 1-year free subscription to the new Voki product. Ten (10) runner ups will be randomly selected for additional prizes.
"We want to get people as excited as we are about our new Voki product" - said Eric Kiang, Director of Marketing for Voki – "and without revealing too much about the new product, I can say that there are many ways that speaking characters can be used in the classroom to enhance learning!"
For more complete information, please visit the contest page and the Voki blog.
The Voki "Guess the Name" Contest is going on now. No purchase is required to win. Each contestant must be 18 years of age or older.
About Voki
Voki is an educational tool that allows teachers and students to create their own speaking animated characters. Voki characters, known affectionately as "Vokis" can be customized to look like historical figures, cartoons, animals, monsters, and more. Vokis can be given a voice by using a microphone, a phone, or typing in a message for the character to speak in over 25 languages. This makes them especially suited to be used for fun classroom assignment, as well as homework & projects. Millions of teachers and students around the world use Voki characters to teach and learn any subject, from language learning, to social studies, Math and Science.
Voki makes teaching and learning fun!