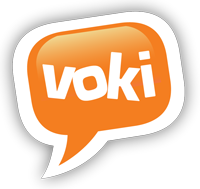 We can't wait to see the creative ways teachers use Voki Presenter.
New York, NY (PRWEB) February 25, 2014
Dubbed, "Voki Presenter," the new product enables educators to use their Voki animated characters as presenters in the classroom. With Voki Presenter, Voki characters can be added to a presentation and be used to narrate the lesson material. Teachers can create engaging lessons for their students to view in class, and share them online for students to view anywhere. Educators can even use their Voki characters to lead the discussion, to generate a lively classroom experience. Presentations can be created in minutes and teachers can unleash their creativity. "We can't wait to see the creative ways teachers use Voki Presenter," said Eric Kiang, Director of Marketing for Voki. "We are delighted to be able to open up new engaging and fun possibilities in the classroom for both teaching and learning".
Some of Voki Presenter's features include:

Design Voki animated character and add it to presentation material
Choose from hundreds of different fun character templates.
Record voice for the animated character to speak, or use available Text-To-Speech (over 25 languages supported)
Play/Edit from the cloud – Presentations are stored on the cloud. So teachers and students can access them anywhere anytime.
Unlimited Voki speech length.
Easily share presentations with students, parents, and colleagues
For more information about Voki Presenter, please visit the Voki site.
About Voki
Voki was launched in 2007, as a free service allowing teachers and students to create, configure and share animated speaking characters. Voki increases student engagement and interest and provides students a fun way of expressing themselves. Voki has become a massively popular education tool used by millions of teachers and students in over 70 countries. Voki is used across all grade levels and school subjects.
Today the free Voki service is still available, as well as premium services offering additional functionality. In 2011 Voki Classroom was released to assisted teachers with managing their students' work. In 2014 Voki Presenter was released to enable using Voki characters as virtual teaching assistants.
Contact
For further information, contact The Voki Team at info(at)voki(dot)com.