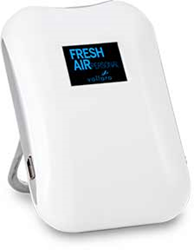 Vollara's technology products, including the FreshAir Personal, help to create a healthier living environment and lifestyle
Dallas, TX (PRWEB) March 05, 2014
Traveling on planes and subways, sitting in open working environments or eating in a restaurant can expose people to stale, contaminated breathing environments. Vollara has created a solution with the FreshAir Personal, an air purification system that can be worn around a neck, clipped to a shirt, jacket pocket or as a stand alone. This simple, elegant air purifier provides cleaner, fresher air in personal space wherever one may travel.
The FreshAir Personal is sleek-looking, lightweight, and comes with a battery that recharges as easily as a cell phone. The unit uses no fans or filters. The FreshAir Personal creates a particle-reduced zone around the wearer by generating ion streams that add charges to nearby airborne particles. These charged particles attract one another and together they fall out of the breathing zone, resulting in decreased concentrations of contaminates in the air one breathes.
"It's not so much about what we eat as what we absorb," says Vollara Vice President of Sales and Health Science Troy Sanford. "Humans breathe about 3,000 gallons of air each day. So during an average day, you can be exposed to a lot of things through the air you're breathing, the water you drink, and even chemicals from detergent on your clothing. Vollara's technology products, including the FreshAir Personal, help to create a healthier living environment and lifestyle."
The new FreshAir Personal is currently available through authorized independent Vollara Distributors. More information about the FreshAir Personal and other healthy living products can be found on Vollara's website at http://www.vollara.com. For more about the Vollara opportunity visit: http://www.moreVollara.com.
About us:
For thousands of years, civilizations have evolved using the essential building blocks of life: air, water and the nurturing ingredients found in natural foods of the earth. Vollara believes these building blocks serve as the foundation for all things healthy and the source by which many of today's common health issues may be addressed. Vollara is part of a family of companies with a rich 90-year history dating back to Electrolux, USA, now known as Aerus, a company known for excellence in its technology, unmatched service, and endless accomplishments. Aerus products have been honored in the Smithsonian and its satisfied customers number over 50 million.