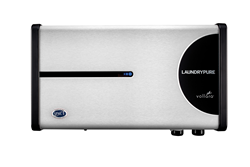 You can save real money each time you do a load of laundry!
Dallas, TX (PRWEB) April 22, 2014
In celebration of Earth Day, Vollara LLC announced that its LaundryPure product has helped save approximately 150 million gallons of water from contamination by laundry detergent. In addition, Vollara estimates consumers have been able to save roughly $5 million by reducing or eliminating use of hot water and laundry detergents, while thousands of empty laundry detergent containers have been prevented from going to the landfill because of the environmentally-friendly nature of the LaundryPure technology. Based on US government data, the average family of four can save $450 per year by using LaundryPure just by eliminating hot water, detergent, bleach and fabric softer.
Vollara has long championed the idea of living healthy and being a good steward of Mother Earth. That's why they developed a website to estimate how many gallons of water have been saved from contamination with laundry detergent, softeners, and bleach. The website: http://www.saveonebilliongallons.com is updated weekly and includes estimated energy savings. LaundryPure has proven to be a huge success, with an initial company goal of preventing contamination of one billion gallons.
The latest LaundryPure is designed with a recyclable brushed aluminum and plastic exterior shell and is made in the U.S.A. Most importantly, it really cleans clothes by using only cold water and no laundry detergent, fabric softener or bleach. The unit produces activated oxygen and peroxides that bubbles into clothing to lift dirt and grime away from the fibers of fabric. On especially tough stains or overly soiled clothing, a pre-treater may be used. Vollara also offers a product called Re:Move which is a biodegradable colloidal base blend pre-treater that is 84.6% degraded by total organic carbon reduction in 28 days. The LaundryPure can be installed on normal or high efficiency top or front loading washers. Installation is as simple as connecting to the cold water delivery side of a residential washer and an existing cold water supply. Modification or changes to existing plumbing are unnecessary. The LaundryPure's power supply plugs into a standard wall outlet.
LaundryPure uses a revolutionary and exclusive technology called ActivePure. It is Certified Space Technology accredited by the Space Foundation as a variation of technology originally developed for use by astronauts in the International Space Station. In addition to the ActivePure's cleaning ability, the process actually prevents the growth of odor-causing bacteria. In a side by side comparison of two loads of laundry left overnight in the wash, one using detergent and the other using LaundryPure, only the soap-free LaundryPure load will smell fresh in the morning. Elimination of detergent also means less residue and abrasives to weigh down and wear out fabrics, extending the life of clothing and linens. And since oxygen and peroxides bubbles are much gentler on fibers without buildup, not using detergent helps clothes appear brighter and stay softer.
"We believe every home should be a LaundryPure home! Our earth-friendly technology is great for our ecosystem and it's great for your pocketbook too, as it can save you real money each time you do a load of laundry," said Bill Coyle, Vollara's President and CSO.
About Us:
For thousands of years, civilizations have evolved using the essential building blocks of life: air, water and the nurturing ingredients found in natural foods of the earth. Vollara believes these building blocks serve as the foundation for all things healthy and the source by which many of today's common health issues may be addressed. Vollara is part of a family of companies with a rich 90-year history dating back to Electrolux, USA, a company known for excellence in its technology, unmatched service, and endless accomplishments. Its products have been honored in the Smithsonian and its satisfied customers number over 50 million. Vollara is a member of a family of companies which also including healthy home experts Aerus, and allergy friendly solution provider Beyond by Aerus. Franchise opportunities are available with Beyond by Aerus.