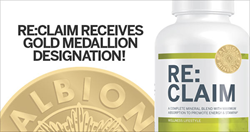 At Vollara, we don't believe it just because somebody said so–we want to see proof. That is why we have such a strong commitment to scientifically and clinically conducted research on our products.
Dallas, Texas (PRWEB) July 10, 2014
Vollara is pleased to announce that their exceptional mineral supplement Re:Claim has been chosen to receive the prestigious Gold Medallion award from Albion, the world leading manufacturer of mineral amino acid chelate nutrition.
Re:Claim combines nine essential minerals in a unique balance designed to replenish mineral deficiencies in today's diet. Processed food and busy day-to-day stresses can contribute to a deficiency of the minerals that are critical to maintaining energy, stamina, healthy organs, strong bones, and healthy hair, skin and nails. Re:Claim's unique and proprietary blend provides essential minerals for supporting healthy immune function and metabolism.
Albion has been at the forefront of manufacturing chelated minerals for human nutrition since 1956. They're also the world leader and innovator in mineral amino acid chelate nutrition.
According to Albion, "A Gold Medallion Product formulation tells the customer that the minerals are verified organic amino acid chelates or organic acid mineral complexes, provided by Albion….Gold Medallion Products should be well formulated, and makes good nutritional sense."
Vollara's main mission has always been to provide ways to live a healthier life, with air, water and nutraceuticals products. They have been diligent in their efforts to bring the highest-quality of nutraceuticals ingredients available to the consumer, and offer them a way to add to their overall level of wellness. Together with Albion, customers who take Re:Claim can be assured they're getting a world-class supplement that's a product of scientific research and precision.
Vollara President and CSO Bill Coyle said of the Albion Gold Medallion recognition, "Vollara is a pioneer and world leader in ultra-high quality nutraceuticals supplementation. Having Re:Claim recognized and awarded the Gold Medallion designation is fantastic validation. Vollara's mission to empower Uncompromising Health has never been stronger. Cut a new path to your personal best health with Vollara."
About us:
For thousands of years, civilizations have evolved using the essential building blocks of life: air, water and the nurturing ingredients found in natural foods of the earth. Vollara believes these building blocks serve as the foundation for all things healthy and the source by which many of today's common health issues may be addressed. Vollara is part of a family of companies with a rich 90-year history dating back to Electrolux, USA, a company known for excellence in its technology, unmatched service, and endless accomplishments. Its products have been honored in the Smithsonian and its satisfied customers number over 50 million. Vollara is a member of a family of companies which also includes healthy home experts Aerus, and allergy friendly rooms provider Beyond by Aerus.