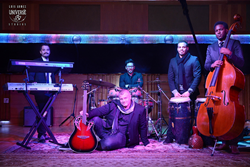 Volodimyr Pigida – music producer, performer, composer
(PRWEB) March 23, 2015
License Composition, founded by Pigida, partners with Future Sound Production and has launched a brand new website to showcase their innovative services (https://www.licensecomposition.com/).
Volodimyr Pigida – a composer, producer, musician and founder of License Composition – has launched a brand new website for his company after joining the Future Sound Production team as a strategic partner on September 10, 2014. As a partner and composer, Pigida will collaborate with the Future Sound Production team to compose and produce new music.
Born in Ukraine in 1974, Pigida's life has always centered on music. Beginning with music lessons in early childhood, Pigida began playing guitar and formed his first band at age 15. From 1990 to 2012, Pigida recorded a total of nine albums, including one music video album, ranging from his church band, Source of Hope, to instrumental solos in contemporary classical and world music.
Pigida also founded his own innovative, web-based music company, License Composition, where users can license exclusive commercial music – over 500 compositions written and arranged by Pigida himself. Pigida has expanded his customized compositions to include a wide variety of genres, including: pop, hip-hop/rap, electronica/dance, classical, world, country, rock, and jazz. Pigida will continue to expand the composition offerings available from License Composition, and plans to partner with different composers in the future to achieve this goal.
Now, as part of the Future Sound Production team, Pigida will continue his long career as an extraordinarily talented musical composer. According to Gen Nady, CEO of Future Sound Production, Pigida "has created and continues to create an utterly unique body of work, which is a great asset to the music industry."
Pigida hopes to continue to partner with composers and producers to expand his growing footprint on the music industry. Music and compositions by Volodimyr Pigida can be found on these and other online music retailers:

Amazon: amazon.co.uk/The-Reflection-Single-Volodimyr-Pigida/dp/B00853Q6F2
iTunes: itunes.apple.com/us/artist/volodimyr-pigida/id494101076
Rhapsody: rhapsody.com/artist/volodimyr-pigida
Spotify: play.spotify.com/artist/23WGdQ6JWwjXcvgIKy9CWY
eMusic: emusic.com/artist/volodimyr-pigida/13605979/
Contact Information:
"Future Sound Production," Global Music and Media, Inc.
Booking Contact
Miami, Fl 33009
info(at)futuresoundproduction(dot)com
http://www.gennadymusic.com
''COMPOSER''
Volodimyr Pigida
Bellevue WA 98004
studiomiami7(at)gmail(dot)com
http://www.vladpigidamusic.info