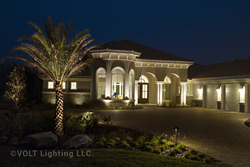 . . . the lamp should not limit the lighting design.
Tampa, Florida (PRWEB) December 10, 2015
VOLT® Lighting, leading manufacturer of landscape lighting products, announces one more product development achievement in a long list of new products and innovations launched this year. This new announcement declares the completion of 28 variations of the popular LED MR16 bulb (also known as MR16 lamp).
The MR16 bulb was first introduced in 1965 as a projector lamp then gained widespread use in low voltage landscape lighting. It remained relatively unchanged for the next 40 years. Then, in the past few years, LED technology evolved and resulted in dozens of LED MR16 bulbs hitting the market. High prices and premature failures plagued the early versions of these bulbs. Now, the technology is maturing and manufacturers like VOLT® are releasing superior quality LED MR16 bulbs.
Steve Parrott, VOLT® Communications Director, explains how the company leveraged recent developments in LED technology to produce their professional line of LED MR16s, "The biggest challenge we faced was how to produce LED bulbs that would work in enclosed landscape lighting spotlights. In such a space, LEDs can overheat and suffer reduced life. We worked closely with Cree®, the industry's premier LED manufacturer, and were able to engineer LED MR16 lamps that could withstand prolonged exposure to high heat environments."
Parrott continues, "Having solved that problem, we turned to the optics – bulb components that shape and direct the light beam. Drawing from the knowledge of our in-house lighting designers, we worked with optical engineers to develop bulbs that produced various useful beam angles (12º, 38º, and 60º). For each angle, we sought to create a beam with uniform light dispersion, soft edges, and a lack of light defects. We believe the resulting light beams from these bulbs are the best in the industry. Lighting designers will love them."
The third variable in VOLT®'s new LED MR16s is Color Temperature. This is the extent to which the hue of a white light is more yellow or blue. For example, older style tungsten MR16 bulbs had a color temperature of 2700K or 3000K (also know as warm white).
Candlelight is more yellow than tungsten, and measures in at about 2200K. Moonlight tends to be bluer at about 4000K.
VOLT® elected to produce MR16 bulbs at all these color temperatures – 2200K, 2700K, 3000K, and 4000K. This gives lighting designers the option to select whatever color temperature best suits the lighting project at hand.
The final variable is light level (brightness). Lighting designers familiar with older tungsten MR16 bulbs, selected them based on wattage (typically 20 to 50 watts) – the higher the wattage, the brighter the bulb. LEDs require many less watts to produce the same brightness, so the VOLT MR16 bulbs vary wattage from 5 to 7 watts. These light levels are similar to the familiar levels of the old tungsten days, but are dramatically more energy-efficient.
Another feature of these bulbs is the fully encased lamp body. This is a departure from early LED MR16s that left sensitive LED circuits exposed to corrosive moisture. VOLT® Lighting is so confident of the longevity of these lamps that they offer a lifetime warranty – possibly the only LED manufacturer to do so.
Parrott summarizes the development, "Creating all possible combinations of three beam angles, two light levels, and four color temperatures was a massive development effort – 28 models in all. We did it because our customers requested it. They told us (and we agreed) that the lamp should not limit the lighting design."
VOLT® LED MR16s are only available through the company's website at http://www.voltlighting.com.
About VOLT Lighting
VOLT® Lighting is a factory-direct supplier of high-quality, low-cost indoor and outdoor lighting products and systems. For more information, go to http://www.voltlighting.com call 813-978-3700 or email (customersupport(at)voltlighting(dot)com).